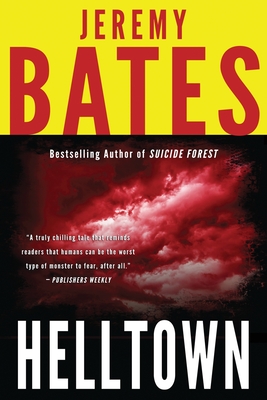 Helltown (World's Scariest Places #3)
Paperback

* Individual store prices may vary.
Other Editions of This Title:
Hardcover (6/1/2015)
Description
Come on a terrifying journey with USA Today and #1 Amazon bestselling author Jeremy Bates to an isolated region plagued with rumors of dark and deadly forces. The locals call it Helltown.
Since the 1980s there have been numerous reports of occult activity and other possibly supernatural phenomenon within certain villages and townships of Summit County, Ohio--an area collectively known as Helltown.
When a group of out-out-town friends investigating the legends are driven off the road by a mysterious hearse, their night of cheap thrills turns to chills as they begin to die one by one.
Praise for Jeremy Bates:
"A master storyteller " ★★★★★
"Best book I've read to date" ★★★★★
"Old-school horror story reminiscent of Stephen King" ★★★★★
"Perfect for Laymon fans " ★★★★★
"Definitely recommend to all fans of modern horror" ★★★★★
"Any Stephen King or Dean Koontz fan will love it" ★★★★★
"I sort of fell into Jeremy Bates by accident, and I'm so glad I did. He's one of my new favorite writers, and I urge everyone to check him out" ★★★★★
"The most chilling book I've ever read " ★★★★★
"Definitely gave me chills reading this late at night which hasn't happened since I was a 13-year-old teenager reading Stephen King's It for the first time" ★★★★★
"Absolutely loved this book" ★★★★★
"Non-stop adrenaline rush from beginning to end" ★★★★★
"I was hooked from the first page " ★★★★★
"Binge worthy " ★★★★★
"I had to stop reading at certain points because he was freaking me out. That only happens to me with one other writer - Stephen King" ★★★★★
"This is one of the best books I have ever read " ★★★★★
"A very juicy, scary ride" ★★★★★
"Suicide Forest is up there with Joe Hill's Heart Shaped Box" ★★★★★
"Scariest book I've ever read" ★★★★★
"Huge fan of Mr Bates You won't be disappointed" ★★★★★
"Edge-of-my-seat experience I felt I was indeed living the horror" ★★★★★
"Page-turner with a twist I was hanging on to every word " ★★★★★
"I found it rivaling some of Stephen King's and Dean Koontz's early works - high praise indeed" ★★★★★
"One of the greatest suspense-filled books I have ever read" ★★★★★
"If you enjoy Richard Laymon, you'll love reading Jeremy Bates" ★★★★★
"A true edge-of-your-seat thriller...I couldn't put it down " ★★★★★
"Startlingly Spooky " ★★★★★
"A non-stop page-turner " ★★★★★
"Early Stephen King, Robert McCammon, Jeremy Bates is a must read " ★★★★★
"As usual Jeremy Bates has done it again... Give him a try, you'll not regret it" ★★★★★
Ghillinnein Books, 9780994096067, 272pp.
Publication Date: June 7, 2015