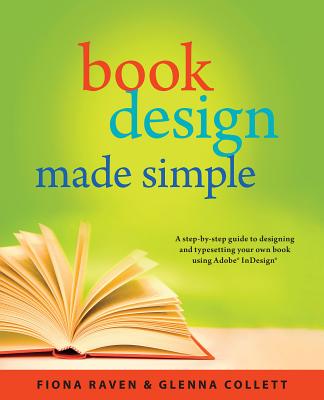 Book Design Made Simple
A step-by-step guide to designing and typesetting your own book using Adobe InDesign
Paperback

* Individual store prices may vary.
Description
Book Design Made Simple gives DIY authors, small presses, and graphic designers—novices and experts alike—the power to design their own books. It's the first comprehensive book of its kind, explaining every step from installing Adobe® InDesign® right through to sending the files to press. For those who want to design their own books but have little idea how to proceed, Book Design Made Simple is a semester of book design instruction plus a publishing class rolled into one. Let two experts guide you through the process with easy step-by-step instructions, resulting in a professional-looking top-quality book.
Praise For Book Design Made Simple: A step-by-step guide to designing and typesetting your own book using Adobe InDesign…
"Book Design Made Simple fills a huge void in the graphic arts and indie publishing bookshelf. Classic books on book design are fine for design students, but usually have little relation to what we do in today's digital world. What indie authors have wanted—and what they keep asking me for—is step by step instruction in creating industry standard books with today's tools and for today's book production requirements. That's what Book Design Made Simple delivers, and it does so beautifully. But this book is much more than that. Book Design Made Simple is more than an explanation of how to design and produce a book, it's virtually a course in self-publishing, too. Starting with getting the InDesign software and proceeding through the basic steps to become a publisher, the authors lead readers by the hand through the process. The tone of the book is helpful and encouraging throughout. Detailed instructions are provided on just about every task you might run into in creating a trade book with InDesign." — TheBookDesigner.com/blog/2016-07/BDMS

"What sets Book Design Made Simple apart is its unique combination of publication design fundamentals and detailed InDesign tutorial. There are lots of general graphic design books, lots of publication design books, and lots of InDesign tutorials and guides. But, until now, there hasn't been a single volume that perfectly addresses the needs of graphic professionals who want to take full advantage of InDesign's ability to produce better-looking, easier-to-read books as efficiently as possible. It contains over 400 pages of design tips, InDesign commands, and features." — Content Marketing Institute
12 Pines Press, 9780994096906, 512pp.
Publication Date: January 17, 2016
About the Author
Fiona Raven and Glenna Collett are book designers with a combined 60 years of experience. After collaborating on designing books for self-publishing authors, they joined forces to write Book Design Made Simple, a 500-page comprehensive guide to designing and typesetting books for non-designers and designers alike. Fiona has designed hundreds of books for self-publishers, small presses, and first-time authors since 1995. Glenna has designed more than 100 textbooks for large publishers, dozens of self-published books for individual authors, and she also teaches workshops on self-publishing.
or
Not Currently Available for Direct Purchase