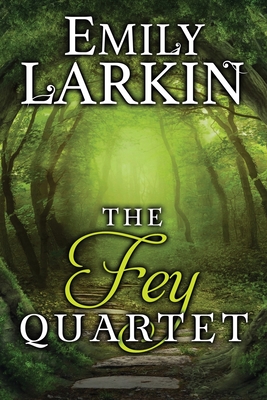 The Fey Quartet (Paperback)
Emily Larkin, 9780994136992, 362pp.
Publication Date: November 17, 2016
* Individual store prices may vary.
Description
One widow three daughters four heroes and some very dangerous Faeries.

MAYTHORN'S WISH

For years the widowed Maythorn Miller has yearned for a man she can never have: the village blacksmith, Ren. But Maythorn lives near the border with Faerie, a place where unexpected things can happen...

HAZEL'S PROMISE

Hazel Miller is betrothed to a man who went off to earn his fortune--and never returned. Dressed as a boy, she sets out to find him, but the roads of Medieval England are fraught with peril. When a ragged stranger risks his life to protect her, how can she refuse his company?

IVY'S CHOICE

Ivy Miller is lame, but in a few days she'll receive a Faerie wish. She could wish herself able to walk freely again...if her beloved sister didn't need saving. But Ivy's sister isn't the only person in desperate need of rescue. A man trapped in the shape of a deer emerges from the forest. Can Ivy break the agonizing spell that binds him?

Ivy has only one Faerie wish--but many choices.

LARKSPUR'S QUEST

Larkspur Miller is determined to earn a Faerie wish for her sister. She knows it won't be easy--and that it will require a man. She's chosen her man: Cadoc Ironfist, liegeman to the Lord Warder of Dapple Vale. But Cadoc is reluctant, and the task is far more dangerous than Larkspur realized...
The Fey Quartet romance novella collection is the prequel to the Baleful Godmother historical romance series.
About the Author
Emily Larkin grew up in a house full of books-her mother was a librarian and her father a novelist-so perhaps it's not surprising that she became a writer. She loves to travel and has lived in Sweden, backpacked in Europe and North America, and traveled overland in the Middle East, China, and North Africa. Her varied career includes stints as a field assistant in Antarctica and a waitress on the Isle of Skye. Emily writes historical romances as Emily Larkin and fantasy novels as Emily Gee. Her websites are www.emilylarkin.com and www.emilygee.com.