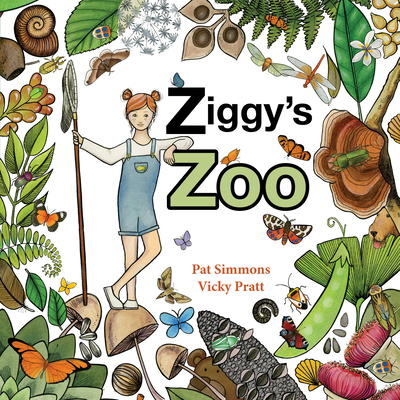 Ziggy's Zoo (Hardcover)
Little Pink Dog Books, 9780994626905, 32pp.
Publication Date: May 7, 2019
* Individual store prices may vary.
Description
Ziggy's Zoo is a rhyming picture book text which describes a young girl playing in her garden, creating a zoo consisting of live mini beasts, a toy, the family dog, and finally, her parents. The story focuses on play, both natural and imaginary. She wants to find ten exhibits, so counting is also a feature of the book as is identification of hidden creatures embedded in the illustrations.
About the Author
Pat Simmons is a writer of poetry, short stories, flash fiction and picture books for children. She lives at Scarborough on the NSW South Coast with a menagerie of critters, which includes cats, dogs and a quantity of stick insects. She has a Bachelor degree in Children's Services and an Advanced Diploma in Community Service Management. She has worked with children in a variety of childcare and museum settings and has also taught child studies at TAFE. Her work has been published in anthologies and children's literary magazines including NSW School Magazine, Alphabet Soup & Looking Glass Magazine. She has won writer competitions in Australia and the UK.
Vicky Pratt works primarily in watercolour pencil, colour pencil, ink and line work. Ziggy's Zoo is her third commission as an illustrator of children's books. She is active in the arts community having helped establish an art group called INKed, which is a safe online environment for artists who use ink.