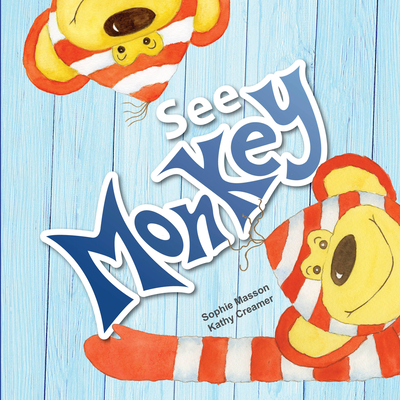 See Monkey (Hardcover)
Little Pink Dog Books, 9780994626981, 32pp.
Publication Date: May 7, 2019
* Individual store prices may vary.
Description
From morning to night, Monkey loves to play and have fun. And even if his antics can go a bit wrong, he's always endearing! See Monkey is a warm, funny story about the busy day of a toddler and his favourite toy, perfect for sharing.
About the Author
Born in Indonesia to French parents and brought up in Australia and France, Sophie Masson is the award-winning author of over 60 books, for children, young adults and adults, published in Australia and internationally. Many of her books are novels, including Jack of Spades  (Eagle Books 2017); The Hunt for Ned Kelly (Scholastic Australia), winner of the Patricia Wrightson Award in the 2011 NSW Premier's Literary Awards; The Crystal Heart (Random House Australia), a 2015 CBCA Notable Book; and Thomas Trew and the Island of Ghosts (Hodder UK), shortlisted for the 2009 Aurealis Awards. Recently, Sophie has begun writing picture books, with the first being Two Trickster Tales from Russia, illustrated by David Allan (Christmas Press 2013), and no less than three published in 2017: Once Upon An ABC, illustrated by Christopher Nielsen, (Little Hare); Two Rainbows, illustrated by Michael McMahon (Little Hare) and Building Site Zoo, illustrated by Laura Wood (Hachette Australia).
Kathy Creamer is a children's illustrator and writer. Kathy and her husband, Peter Creamer, are passionate about Orangutan Conservation. This all began 25 years ago, whilst visiting and then working at the Singapore Zoological Gardens with the volunteer docent team. Kathy was inspired by the gentle and loving personality of Ah Meng, who was the Zoo's icon and animal ambassador at that time. Kathy has been published by Oxford University Press, Reed International, Julia Gabriel Communications, and other organisations. She has an MA in Children's Book Illustration from the renowned Cambridge School of Art at Anglia Ruskin University in England. Kathy has also run her own successful publishing venture called Creative Characters Publishing that was based in the UK. Having emigrated to Australia over 12 years ago, she now lives in Armidale, and with her husband, Peter, has set up Little Pink Dog Books Children's Picture Book Publishing.