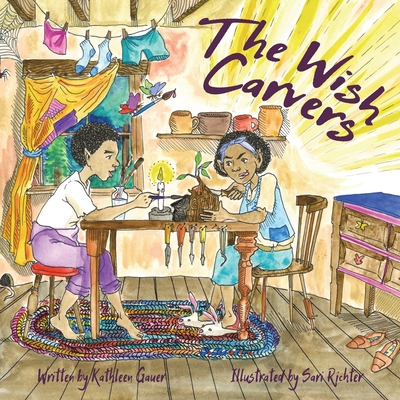 The Wish Carvers
Paperback

* Individual store prices may vary.
Description
THE WISH CARVERS is a fun-to-read storybook, based on the adage, "Be careful what you wish for". When two sibling elves, Fay and Eddie, come across a magic knife that will turn whatever they carve into reality, they decide to carve and paint a pot of gold, a large stone cottage and finally a fancy fairytale castle. But with each wish granted comes more and more complications. Can they find a way to return to their old peaceful life?
This enchanting tale, with its whimsical watercolors and lively fairytale characters, will delight young and old alike. Readers and listeners will enjoy predicting what happens next as the story unfolds. They will also find lots of details to enjoy and discover on each page, such as a tail sticking out of a mouse hole, bunny slippers worn by Fay, and a colorful pair of butterflies that flit through the story illustrations. A great addition to storybook collections and the perfect gift for young imaginative readers everywhere
Skipping Stone Press, 9780994900722, 34pp.
Publication Date: May 4, 2020