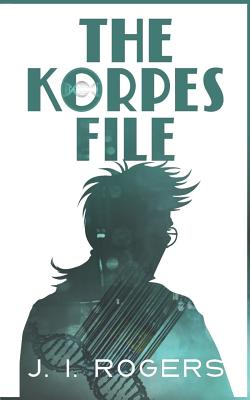 The Korpes File (942 #1) (Paperback)
ISBN Canada, 9780995156647, 314pp.
Publication Date: March 2, 2017
Other Editions of This Title:
Paperback (3/2/2017)
* Individual store prices may vary.
Description
This is the first book in "The Korpes File Series":
"As if being born Diasporan wasn't enough, Technician Nash Korpes has the bad luck to match his Tyran ancestors in form and manner. These traits, though highly prized by the special projects division at Korlune Military Research and Development, mark him as a specter from their warlike past. With only his intellect to save his sanity, he wages a private war against the entire socioeconomic status quo and uncovers a nemesis that threatens them all."

Set against a dystopian sci-fi backdrop, and told from multiple point-of-views, the story centers around the main character's experiences as a genetic anomaly. Some aspects of this work may be considered inappropriate for children under 13.
About the Author
J. I. Rogers is green-eyed, ginger-haired, caffeine addict who is currently working on 'The 942 Series' of science fiction novels. When not acting as a conduit for the voices in her head, she's a poster child for Gen X and the Queen of most boondoggles that lead to eye-strain and tinnitus.
Praise For The Korpes File (942 #1)…
Editorial Reviews:
Five Stars "...Its intelligent storyline only adds to depth of emotion the reader feels. Not an easy book to read, it is nevertheless a page turner. Complex and fascinating, the reader will discover more and more elements each time it is read..."
~ Gwenellen Tarbet of InD'Tale Magazine
Five Stars "...The sci-fi piece is plainly at the core of the story, but J.I. Rogers fluidly incorporated levels of racism, love and corruption into the storyline as well. The Korpes File is sure to be a hit with sci-fi fans..."
~ Originally critiqued by a member of the Authors Talk About It team
Five Stars "...The futuristic and gritty setting is a strong pillar of The Korpes File..."
~ Ray Simmons of Readers' Favorite
Five Stars "Few debut books attempt to achieve what J. I. Rogers set out to achieve, and even fewer are able to create a story that is so unlike everything else out there. The Korpes File is one such work and a stellar debut novel for Rogers."
~ LITERARY TITAN
Awards
The 2018 New Apple Summer E-Book Awards - Science Fiction Solo Medalist
The 2018 New Apple Book Award for Excellence - Official Selection Science Fiction.
The 2018 CYGNUS Book Award for Science Fiction Grand Prize Winner (CIBA).
The 2019 Next Generation Indie Book Award - Science Fiction Finalist(NGIBA)
or
Not Currently Available for Direct Purchase