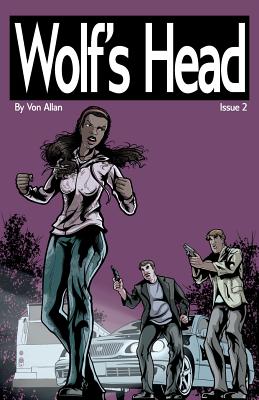 Wolf's Head - An Original Graphic Novel Series
Issue 2: 'Boom' and 'Heart'
Paperback

* Individual store prices may vary.
Other Editions of This Title:
Paperback (11/8/2017)
Paperback (12/20/2018)
Paperback (5/29/2019)
Paperback (12/30/2020)
Paperback (12/17/2019)
Paperback (8/26/2020)
Description
Synopsis: Lauren Greene and her mother, Patty, have a huge disagreement over the future of a self-aware AI that her mom saved from a lab and sheltered from its war-mongering creators. Angry at her mother's stubbornness and terrified of the world they're suddenly involved in, Lauren storms out only to be kidnapped by Jeremy Hamilton, the powerful man who invented the AI. Later that night, in trade for Lauren's freedom, Patty surrenders herself and the AI machine to Hamilton.
Freed by Hamilton's goons and assured that her mother is safe and will be released the next day, Lauren returns home to wait. But later that night, she learns, to her horror, that Patty has been suddenly hospitalized in critical condition and the AI is missing. Since the AI has protected her mother in the past, Lauren races against time to find it, hoping that it can save Patty yet again. As she searches frantically, and with her world turned upside down, Lauren must confront an old enemy, dodge new ones, and find the AI, which might not want to be found...before it's too late for everyone.
WOLF'S HEAD is part action-adventure, part drama, featuring strong women of color in the real world. Written and illustrated by Canadian cartoonist Von Allan (the road to god knows..., Stargazer, and Metal Gods), WOLF'S HEAD will excite readers of all ages. For more information, please visit https: //wolfs-head.vonallan.com.
Author Biography: Von Allan was born red-headed and freckled in Arnprior, Ontario, just in time for STAR WARS: A NEW HOPE. The single child of two loving but troubled parents, Von split most of his childhood between their two homes and, consequently, spent a lot of time in the worlds of comics and wrestling. He managed an independent bookstore in Ottawa for many years, all the while working on story ideas in his spare time. Eventually, he decided to make the leap to a creative life.
Von currently lives in Ottawa, Canada, with his writer/editor geek wife, Moggy and their rescue husky dog, Corbin.
Von was recently featured in the documentary film I AM STILL YOUR CHILD written and directed by Megan Durnford (http: //iamstillyourchild.com) and produced by Katarina Soukup of Catbird Films (http: //catbirdfilms.ca). His artwork was also featured in a CBC Arts video profile at http: //www.cbc.ca/arts/exhibitionists/as-a-kid-his-mother-s-illness-scared-him-now-he-s-using-comics-to-come-to-terms-1.4281356.
Allan is the recipient of the 2014 Corel Endowment for the Arts Award (https: //ottawaartscouncil.ca/en/council-news/two-artists-receive-corel-endowment-arts-awards) and the 2019 CBC Trailblazer Award (https: //newsinteractives.cbc.ca/longform/eric-julien).
Publishing Specifications:
ISBN: 978-0-9952772-3-6
50 pages
Release Date: August 15, 2018
Trim Size: 6.625" by 10.250"
Art: full colour
Not suitable for very young readers
Review copies are available upon request
Von Allan Studio, 9780995277236, 50pp.
Publication Date: July 17, 2018