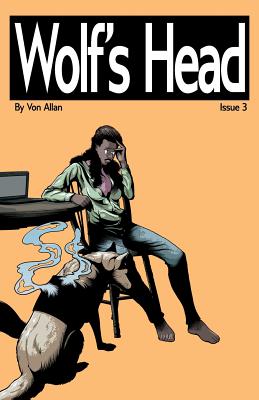 Wolf's Head - An Original Graphic Novel Series
Issue 3: 'Homegoing' and 'The End of Things'
Paperback

* Individual store prices may vary.
Other Editions of This Title:
Paperback (11/8/2017)
Paperback (7/17/2018)
Paperback (5/29/2019)
Paperback (12/30/2020)
Paperback (12/17/2019)
Paperback (8/26/2020)
Description
Synopsis: Lauren Greene is forced to deal with the recent death of her mom. Trying to place the massive loss, Lauren's situation is made all the harder as she struggles to come up with the money for the funeral, deal with the disappearance of her mom's dog, and attempt to communicate with the strange artificial intelligence her mom had befriended.
Just as things are appearing to get back to some degree of normalcy, Lauren is confronted by the corporate forces who created the AI and are attempting to hunt it down. Forced to defend the AI, Lauren's life and the lives of those she loves are very much in the balance as Jeremy Hamilton and his henchmen will not stop until the AI is theirs once again.
WOLF'S HEAD is part action-adventure, part drama, featuring strong women of color in the real world. Written and illustrated by Canadian cartoonist Von Allan (the road to god knows..., Stargazer, and Metal Gods), WOLF'S HEAD will excite readers of all ages. For more information, please visit https: //wolfs-head.vonallan.com.
Author Biography: Von Allan was born red-headed and freckled in Arnprior, Ontario, just in time for STAR WARS: A NEW HOPE. The single child of two loving but troubled parents, Von split most of his childhood between their two homes and, consequently, spent a lot of time in the worlds of comics and wrestling. He managed an independent bookstore in downtown Ottawa for many years, all the while working on story ideas in his spare time. Eventually, he decided to make the leap to a creative life.
Von currently lives in Ottawa, Canada, with his writer/editor geek wife, Moggy, and their rescue husky dog, Corbin.
Von is a winner of the 2019 CBC Trailblazer Awards and a winner of the 2014 Corel Endowment for the Arts Award. He was recently featured in the documentary film I AM STILL YOUR CHILD written and directed by Megan Durnford (http: //iamstillyourchild.com) and produced by Katarina Soukup of Catbird Films (http: //catbirdfilms.ca). His artwork was also featured in a CBC Arts video profile at http: //www.cbc.ca/arts/exhibitionists/as-a-kid-his-mother-s-illness-scared-him-now-he-s-using-comics-to-come-to-terms-1.4281356
Publishing Specifications:
ISBN: 978-0-9952772-4-3
60 pages
Release Date: December 20, 2018
Trim Size: 6.625" by 10.250"
Art: full colour
Not suitable for very young readers
Review copies are available upon request
Von Allan Studio, 9780995277243, 60pp.
Publication Date: December 20, 2018