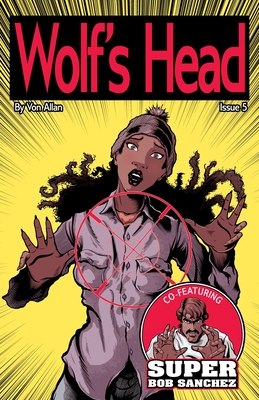 Wolf's Head - An Original Graphic Novel Series
Issue 5: 'Crosshairs, ' 'Old Bess', and 'Friends and Foes'
Paperback

* Individual store prices may vary.
Other Editions of This Title:
Paperback (11/8/2017)
Paperback (7/17/2018)
Paperback (12/20/2018)
Paperback (5/29/2019)
Paperback (12/30/2020)
Paperback (8/26/2020)
Description
Lauren Greene is a young Detroit woman whose life is turned upside down after her mom saves a newborn life-form, a kind of artificial intelligence, from a secretive corporation that intended to use the powerful baby for war. When her mom dies, Lauren is left alone to figure out what to do with the new life-form while also trying to make ends meet in her real life.
With the main villains from the secretive organization in the hospital after an abortive attempt to steal the baby life-form back, Lauren feels like she has some breathing room to figure out her next steps; she takes a job as a janitor and tries to settle into a normal life. She also makes contact with an ex-scientist, Jack Dhillon, who has a personal hatred for the AI's creator; together, they plan to work on understanding the life-form and figure out how to use it for good. Lauren feels like she's made progress on sorting out her life...but she hasn't counted on the anger from one of the villains, who has a personal vendetta against her. He spent time in the hospital and now he doesn't want the life-form back, he just wants Lauren dead.
When a bounty killer lands in town and shows up at Lauren's apartment armed with an EMP and a gun, things start to go very badly, very quickly; the young life-form takes a full blast from the EMP but manages to save Sankō and Lauren before collapsing. Lauren must gather Sankō, the wounded artificial life-form, and some necessities and run for safety. She lands at Jack's place where she then gets a phone-call from a potential new ally named Super Bob Sanchez; he has information that will rid Lauren of her villainous pursuer for once and for all, put some money in her pockets, and give her a way out of Detroit...if she can trust him.
But before Lauren can sort out her next steps, she gets a phone-call from the villain who wants her dead; he's furious that his bounty killer couldn't get the job done, so he's kidnapped Lauren's best friend and he'll trade that life for Lauren's.
WOLF'S HEAD is part action-adventure, part drama, featuring strong women of color in the real world. Written and illustrated by Canadian writer/artist Von Allan (winner of a 2019 CBC Trailblazer award, star of a CBC Arts Exhibitionists short, recipient of the 2014 Corel Endowment for the Arts Awards, and artist/writer of the road to god knows..., STARGAZER Volumes 1 and 2, WIZARDS FOR HIRE - CHEAP , and METAL GODS), WOLF'S HEAD will excite readers of all ages. The story is presented in full color and is 60 pages in length. For more information, please visit https: //wolfs-head.vonallan.com.
Von was recently featured in the documentary film I AM STILL YOUR CHILD written and directed by Megan Durnford (http: //iamstillyourchild.com) and produced by Katarina Soukup of Catbird Films (http: //catbirdfilms.ca).
Publishing Specifications:
ISBN: 978-0-9952772-6-7
60 pages
Release Date: December 17, 2019
Trim Size: 6.625" by 10.250"
Art: full colour
Not suitable for very young readers
Review copies are available upon request
Von Allan Studio, 9780995277267, 60pp.
Publication Date: December 17, 2019