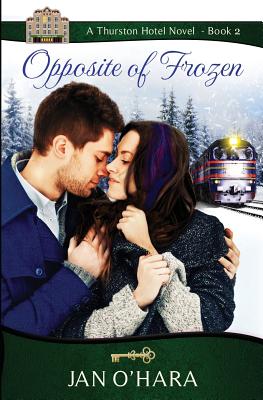 Opposite of Frozen (Thurston Hotel #2) (Paperback)
Tartitude Publishing, 9780995301214, 294pp.
Publication Date: November 11, 2016
* Individual store prices may vary.
Description
Professional athlete Oliver Pike would do just about anything to help his struggling brother, even if that means setting aside his own career difficulties to take a busload of retirees on a multinational tour.
But trouble arises before they clear the Canadian Rockies, forcing the bus off-route and into a small town. And in the hold of the bus, amid the walkers and luggage, lies a half-frozen stowaway.
Once thawed, Page Maddux proves to be commitment-phobic, irreverent, and maddeningly attractive. She is also the person Oliver must rely upon to help keep the "oldsters," as she calls them, out of harm's way.
When their week together is over, will the town recover from the group's exploits? And given Page's tendency to run, what will become of Oliver's heart?
Opposite of Frozen is a full-length standalone novel and combines the emotionality of a Kristan Higgins romance with the quirkiness of a Penny Reid. See why Kirkus Reviews said, "If O'Hara's next books are anything like this one, she's got a long career ahead of her."
What Reviewers Are Saying

"If O'Hara's next books are anything like this one, she's got a long career ahead of her. A sweet, heartfelt series love story." --Kirkus Reviews

"What an entertaining, funny, sad, adorable romp Opposite of Frozen turned out to be. Since this is Jan O'Hara's debut book, just sign me up for whatever comes next from her talented mind." --RomanceIsAgeless.com

"Smart, funny, and with a cast of quirky characters you're bound to fall in love with, Jan O'Hara's debut novel is a lively read... You'll pick it up for the reluctant romance brewing between former baseball superstar turned tour guide Oliver Pike and commitment-averse wanderer Page Maddux: You'll keep reading for the intergenerational shenanigans..." --Liz Michalski, author of Evenfall
..".a witty, delightful story about love and hope across the ages. I look forward to whatever Jan O'Hara writes next." --Therese Walsh, author of The Last Will of Moira Leahy
..".an emotional, fun-filled escapade with memorable characters. ...Opposite of Frozen will have readers clamoring to read more of this author's work." --RT Review Source