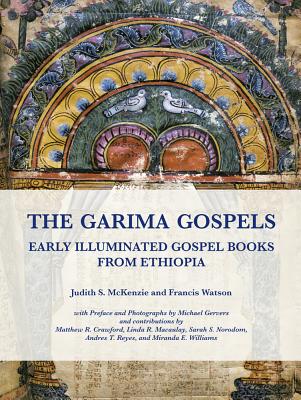 The Garima Gospels (Hardcover)
Early Illuminated Gospel Books from Ethiopia
Manar al-Athar, 9780995494602, 336pp.
Publication Date: November 3, 2016
* Individual store prices may vary.
Description
The three Garima Gospels are the earliest surviving Ethiopian gospel books. They provide glimpses of lost late antique luxury gospel books and art of the fifth to seventh centuries, in the Aksumite kingdom of Ethiopia as well as in the Christian East. As this work shows, their artwork is closely related to Syriac, Armenian, Greek, and Georgian gospel books and to the art of late antique (Coptic) Egypt, Nubia, and Himyar (Yemen). Like most gospel manuscripts, the Garima Gospels contain ornately decorated canon tables which function as concordances of the different versions of the same material in the gospels. Analysis of these tables of numbered parallel passages, devised by Eusebius of Caesarea, contributes significantly to our understanding of the early development of the canonical four gospel collection. The origins and meanings of the decorated frames, portraits of the evangelists, Alexandrian circular pavilion, and unique image of the Jerusalem Temple are elucidated. The Garima texts and decoration demonstrate how a distinctive Christian culture developed in Aksumite Ethiopia, while also belonging to the mainstream late antique Mediterranean world. Lavishly illustrated in colour, this volume presents all of the Garima illuminated pages for the first time and extensive comparative material. It will be an essential resource for those studying late antique art and history, Ethiopia, eastern Christianity, New Testament textual criticism, and illuminated books.
About the Author
JUDITH MCKENZIE is University Research Lecturer, University of Oxford. She lived in a cave while working on The Architecture of Petra (1990), the rock-cut capital of the Nabataeans in Jordan. Her other books include The Architecture of Alexandria and Egypt, 300BC-AD700 (2007) and on the sculpture and religious practice at The Nabataean Temple at Khirbet et-Tannur (2 vols, 2013). She is the director of the open-access photo-archive www.manar-al-athar.ox.ac.uk and Principal Investigator of the ERC Advanced Project 'Monumental Art of the Christian and Early Islamic East: Cultural Identities and Classical Heritage'. Her interest in the Garima Gospels comes from the use of architecture in their illuminations, and the role of influences from places, such as Egypt, alongside the development of a distinctive Ethiopian Christian art. FRANCIS WATSON holds a Research Chair in Biblical Interpretation in the Department of Theology and Religion, Durham University, having previously taught at the University of Aberdeen (1999-2007) and King's College London (1984-99). His primary research interests lie in the field of canonical and non-canonical gospels and their early reception; recent books include Gospel Writing: A Canonical Perspective (2014) and The Fourfold Gospel (2016). He is editor of the journal New Testament Studies (Cambridge University Press), and Principal Investigator on the 'Fourfold Gospel and its Rivals' project (2012-17), funded by the Arts and Humanities Research Council. MICHAEL GERVERS is professor of medieval history at the University of Toronto. He teaches a course on the history of Ethiopia and has recently introduced the study of Old Ethiopic (Ge'ez) language to the curriculum. He has published widely on Ethiopian architecture and material culture and is currently co-authoring a major volume on the ancient church of Yemrehanna Krestos (near Lalibela, Lasta). A new objective, sponsored by the Arcadia Fund, is to document the contemporary but quickly disappearing highland craft of hewing churches from the rock. His thirty-five years of fieldwork has led to an extensive photographic repertory of Ethiopian art and culture (http: //ethiopia.deeds.utoronto.ca)
or
Not Currently Available for Direct Purchase