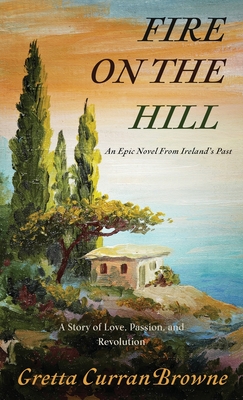 Fire On The Hill (Liberty Trilogy #2)
Hardcover

* Individual store prices may vary.
Description
A COMPLETE STAND-ALONE NOVEL and also Book #2 of THE LIBERTY TRILOGY)
Gretta Curran Browne's books have been internationally published in translation throughout Europe and Japan and China.
***
Michael Dwyer was born, cradled and then grew from boy to man under the shade of the Wicklow Hills. He knows every inch of them - the secret streams to quench a man's thirst, the wild game to keep away hunger, the wood in excess to burn, and the sheltering caves. And then, in the historic year of 1798 he comes to know love.
When Michael Dwyer first dances with Mary Doyle on the night of the Spring Fair, many of the locals see their love story unfold before their eyes, a story so unique they will later tell it to their grandchildren.
Destined to be a farmer like his father before him, Michael loves the land, and is content to work in the fields and live of the yield, but in that same year of 1798 the militia, hated pawns of the rulers in Dublin Castle, force him to leave the land and take to his beloved mountains, where he becomes what every Wicklow youth dreams of being - a man who owns no master, a man who refuses to bend a servile knee.
And always, standing somewhere amidst the green glens and beautiful landscape of Wicklow, is Mary, watching and waiting, caring nothing for patriotism and heroism, only for her love of the rebel captain, but love on the run cannot last forever.
Having walked the green glens of Michael Dwyer's native County Wicklow, Gretta Curran Browne - in this rigorously researched historical novel - reveals the complexities and humanity of an extraordinary Irish rebel leader.
FIRE ON THE HILL is a magnificent historical novel and a passionate and poignant love story.
Seanelle Publications Inc, 9780995558267, 270pp.
Publication Date: November 13, 2016