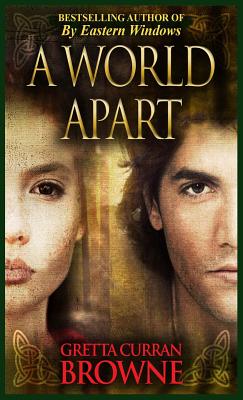 A World Apart (Liberty Trilogy #3)
Hardcover

* Individual store prices may vary.
Other Editions of This Title:
Paperback (3/31/2018)
Paperback (10/27/2013)
Description
A WORLD APART: An Epic Novel From Ireland's Past - The Michael Dwyer Story continues... - (Book 3 of THE LIBERTY TRILOGY)
The Michael Dwyer story continues ... powerful in its drama and truth ... and his fame in the history of Ireland begins
A COMPLETE STAND-ALONE NOVEL and Book 3 Of THE LIBERTY TRILOGY
FROM THE BESTSELLING AUTHOR of TREAD SOFTLY ON MY DREAMS
GRETTA CURRAN BROWNE has been internationally published throughout Europe and in Japan and China.
Here is a real blockbuster, magnificent, passionate, poignant.' - Books Ireland.
A powerful historical novel.' - Guernsey Evening Press
Highly recommended.' - Irish World
Powerful A love story which endures more than half a century and spans two continents.' - Brecon and Radnor Express
Browne has a talent for drawing us into her characters and situations.' - Irish News
In her historical faction' novels, Gretta Curran Browne tells the story of actual people and actual events and, apart from using a few minor fictional characters, she does not change history or distort the true stories of the worthy people she has "reclaimed" from history to bring to a present-day audience.
When first published in hardback, Tread Softly On My Dreams and Fire On The Hill were bought by the University of Notre Dame in the USA, The National Library of Ireland, and The Princess Grace Irish Library in the Palace of Monaco.
They thought they had killed him - on the same winter night his friend Sam McAllister had been shot dead on the hillside of Derrynamuck - they had chased Michael and seen a trail of his blood in the snow. Oh yes, the young rebel captain was dead and gone, and would cause no further trouble to them - the hated militia who raped and burned houses at will and treated the people of Wicklow like some dirt that kept getting under their boots.
Desperate for his protection from the militia's brutality, only the people refused to believe that Michael Dwyer was dead. To them he was like a prince - aye, a prince, same as a king's son' - and if Michael had been killed, all his friends would have been in mourning, but they were not. Too many times they had seen the small, secret smiles of Michael's friends when the militia gloated over his death.
And then there was Mary - his beautiful Mary who had adored him - why was she not looking in any way heart-broken? Why was she just carrying on with her life as normal?
No, the people concluded, Michael was not dead - injured maybe, a whole lot of bullets had flown towards him that night at Derrynamuck - but he had been dodging bullets for years and not one had ever reached him. No, only the stupid militia would believe that Michael had been defeated - the whole dumb pack of them.
Seanelle Publications Inc, 9780995558274, 254pp.
Publication Date: November 20, 2016