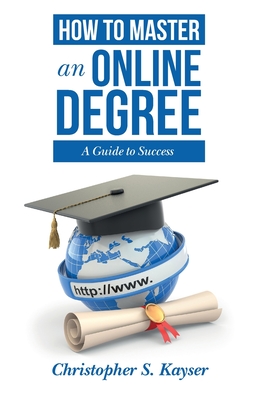 How to Master an Online Degree
A Guide to Success
Paperback

* Individual store prices may vary.
Description
Distance education has become the fastest growing mode of learning on a global basis. This guide will prepare students to get the most out of any distance education program by providing a road map to successfully complete an online degree. It is a necessary read for anyone considering, or who is enrolled in a distance education program. It explains key differences between distance learning and on-campus education, and how to be most successful when pursuing a degree online. Students must determine which environment will provide the best result according to their specific needs, circumstances and preferences. This guide better prepares students to recognize potential challenges and roadblocks and offers the most effective methods to address and resolve issues that may be encountered related to distance education.By understanding the roles of those involved in an online educational process such as instructors, facilitators, tutors, administrators, IT departments and others, students can benefit by being more aware of how to successfully communicate and take advantage of all that is offered when pursuing an online degree. Equally important is learning how to benefit from interacting with other students involved in your courses. Areas that can present significant challenges for online students include: engagement, time management, self-discipline, managing personal and work-related relationships, re-engaging in academic studies after a prolonged absence, writing skills, how to ready yourself before your first course, and technology issues. The combination of the suggestions and procedures contained in this guide will help you address these and other issues, allowing you to complete your online education more easily and to the best of your ability.
Cybercrime Analytics Inc., 9780995859210, 84pp.
Publication Date: January 9, 2017
About the Author
Christopher Kayser's multi-decade careers include over two decades in the computer industry, 15 years as a professional money manager, and most recently as founder, President and CEO of Cybercrime Analytics Inc. He holds numerous designations in these fields. Many of his designations, certifications and both degrees were completed through distance education programs. He holds a Bachelor of General Studies (Honors with Great Distinction) from Athabasca University, a Master of Criminal Justice with a Subconcentration in Cybercrime Investigation and Cybersecurity (Alpha Phi Sigma - Honors Society of Criminal Justice) from Boston University, a Graduate Certificate in Cyberinvestigation and Cybersecurity from Boston University, is an AccessData Certified Examiner for digital forensics, and holds a Chartered Market Technician designation through the Market Technicians Association, and completed an online course for songwriting through the Berklee College of Music. He continues to expand his passion for learning through online and self-study courses. Personally, he enjoys spending time writing and publishing music, golfing, and traveling.