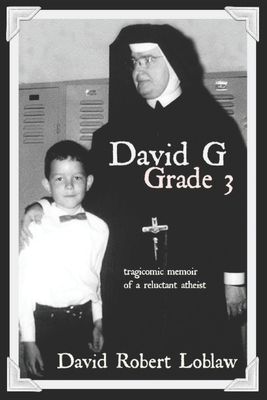 David G Grade 3 (Paperback)
the tragicomic memoir of a reluctant atheist
Cameron House Media, 9780995949508, 224pp.
Publication Date: September 6, 2018
* Individual store prices may vary.
Description
2019 Saskatchewan Book Awards nominee
Fraught with anxiety, little David is troubled why Nuns wear wedding rings, why a confessed killer gets to go to Heaven, why Protestants are buried on the other side of the fence, why there are many half-souls in Limbo because of his spilled sperm. A funny and sad memoir filled with a true cast of characters.
From Sask Book Awards: "In his accomplished debut memoir, David Robert Loblaw weaves a poignant, vulnerable, and laugh-out-loud funny tale, recounting his upbringing in a staunchly Catholic family living on the Canadian prairies. David G Grade 3 is a snapshot in time that illustrates the complex relationships of one family intersecting with faith, duty, and expectations. Loblaw uses profound humour and unflinching sincerity to recount his truth and to pay homage to two women who were major contributors in shaping his remarkable outlook on life.