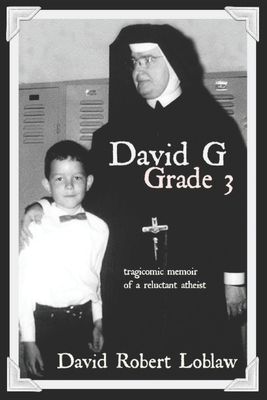 David G Grade 3 (Paperback)
The Tragicomic Memoir of a Reluctant Atheist
Cameron House Media, 9780995949508, 224pp.
Publication Date: September 6, 2018
* Individual store prices may vary.
Description
Nominee in FIRST BOOK category for 2019 Saskatchewan Book Awards (27-April)
Fraught with anxiety, little David is troubled why Nuns wear wedding rings, why a confessed killer gets to go to Heaven, why Protestants are buried on the other side of the fence, why there are many half-souls in Limbo because of his spilled sperm. A funny and sad memoir filled with a true cast of characters.
Growing up in Regina on the flatlands of Canada in the 1960s, Loblaw is raised by his hilarious sister to see the fun in everything, countered by his mother teaching him everything will end badly. Raised by these two disparate women, he is a hybrid of the two - a jumbled, walking mess of stories infused with dark humour.
His life is a swirl of laughter and tears, and so is his memoir. Every family has funny stories and tragedies - good and bad, Loblaw's family seems to have quite a lot of both.