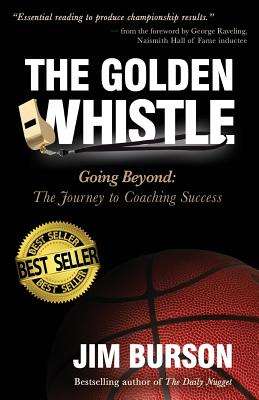 The Golden Whistle: Going Beyond: The Journey to Coaching Success (Paperback)
Going Beyond: The Journey to Coaching Success
Exohs, 9780996002202, 192pp.
Publication Date: March 22, 2014
About the Author
Dr. James (Jim) Burson, creator of Solution-Based Basketball(r), is known as a "coach's coach .... and a respected sage in the [coaching] fraternity" (Sports Illustrated) for his lifetime commitment to the game. He also authored The Daily Nugget: Motivations for Basketball Coaches and Everyone Who Loves the Game and writes a widely-read coaching blog at his website, www.jimburson.com. Jim is a consultant for basketball coaches and sports companies, including Nike. He is past president of the National Association of Basketball Coaches and is a member of the Ohio Basketball Hall of Fame, where he serves on the board of directors. An all-time top Division III coach, Jimtaught and coached for over 40 years at Muskingum University in Ohio. Jim is a popular motivational speaker, known to recite poetry spontaneously. He is an ardent student of Ralph Waldo Emerson, despite his disappointment when he learned Emerson never coached basketball."
Advertisement