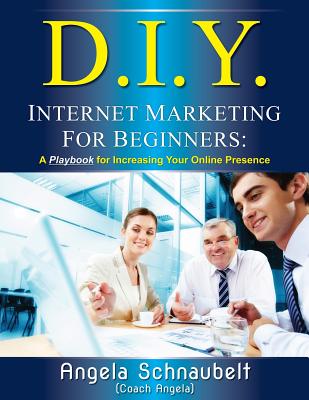 DIY Internet Marketing for Beginners (Paperback)
A Playbook for Increasing Your Online Presence
Rebals Press, 9780996005500, 240pp.
Publication Date: February 16, 2014
* Individual store prices may vary.
Description
"Coach Angela's playbook keeps your focus and strategy on the most important person in the marketing equation: your customer. The DIY Playbook is a great investment." - Angel Tuccy, host of the Experience Pros Radio Show, The Most Positive Business Talk Show in America This reference book will demystify Internet marketing for you and your business. Whether you are a total newbie or a beginner, you will keep returning to this playbook as your sophistication with social media grows. In DIY Internet Marketing for Beginners, you'll learn: -What are the best platforms (Facebook, Twitter, etc.) for me and my business? -How much and how often should I post my information? -What kind of information should I promote? -What is the step-by-step process for creating an online strategy to help my business? Jump in the game on your own terms. This is a playbook that you will write in. Don't just read, interact Inside this unique reference guide, you'll find: -challenges and activities to increase your online presence -master password list to fill out -template for creating a marketing plan for your business -tracking sheets to record your progress over time -glossary of online marketing and social media terms -Online Presence Assessment form Understand what all the hype is about. Get equipped to win with Coach Angela's big picture explanation, and proven strategies that she has used to help small business owners and solopreneurs grow their businesses.
About the Author
Using the principles in this playbook, Coach Angela has increased revenues for businesses by 400% in one year. Her Klout score puts her in the top 5% of influencers in the social media world. She has been an early adopter of the internet as a consumer, as well as marketing for her various businesses since the late 1990's, and with her new book, she can teach you to do it on your own. Her blog, supportbravegirls.org, chronicles her survival of stage 4 cancer using alternative cancer treatments as well as the western practices of chemo-radiation. Join the discussion, leave comments, and find out more information about Coach Angela at www.askcoachangela.net.