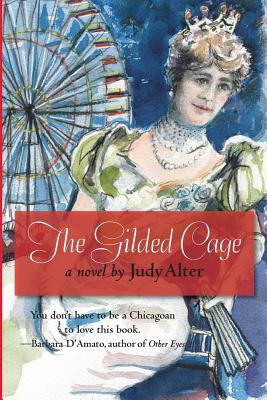 The Gilded Cage
A Novel of Chicago
Paperback

* Individual store prices may vary.
Description
Born to society and a life of privilege, Bertha Honor married Potter Palmer, a wealthy entrepreneur who called her Cissy. Neither dreamed the direction the other's life would take. He built the Palmer House Hotel, still famed today, and became one of the major robber barons of the city, giving generously to causes of which he approved. She put philanthropy into words, going into shanty neighborhoods, inviting factory girls to her home, working at Jane Addams' settlement Hull House, supporting women's causes. It was a time of tremendous change and conflict in Chicago as the city struggled to put its swamp-water beginnings behind it and become a leading urban center. A time of the Great Fire of 1871, the Haymarket Riots, and the triumph of the Columbian Exposition. Potter and Cissy handled these events in diverse ways. Fascinating characters people these pages along with Potter and Cissy-Carter Harrison, frequent mayor of the city; Harry Collins, determined to be a loser; Henry Honor , torn between loyalties to the South and North; Daniel Burnham, architect of the new Chicago-and many others. The Gilded Cage is a fictional exploration of the lives of these people and of the Gilded Age in Chicago history.
Alter Ego Press, 9780996013123, 320pp.
Publication Date: April 14, 2016