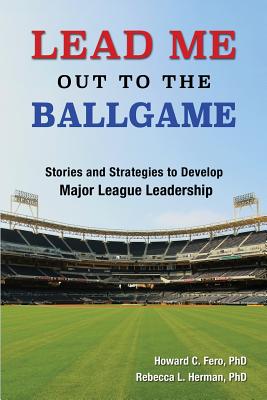 Lead Me Out to the Ballgame
Stories and Strategies to Develop Major League Leadership
Paperback

* Individual store prices may vary.
Description
"Strike 3 - you're out" "Ball 4 - take your base" "Out of the park...homerun " It's all pretty cut and dry in baseball. The umpire makes a call, and for better or worse, that's the way it is (well, maybe a review here and there ). With leadership however, rules aren't quite as clear cut...there isn't always one right call to make, there isn't always one strategy to employ, and there isn't always only one person who makes the call. Leadership is a process which, to be utilized successfully, requires an understanding of some basic tenets, or, as we call them, Bases of Leadership. - How do Major League Baseball managers gain the trust and respect of their players? - How do Major League Baseball managers overcome challenges on and off the field? - How do Major League Baseball managers motivate a diverse team? - How do Major League Baseball managers successfully communicate their vision? - How do Major League Baseball managers create a winning culture? - How can managers, executives, and people at all levels learn to lead themselves and lead others like Major League Baseball managers? In Lead Me Out to the Ballgame Dr. Howard Fero and Dr. Rebecca Herman take the reader on a tour through a majority of the Major League Baseball clubhouses and share stories from managers such as Joe Maddon (Tampa Bay Rays), Bob Melvin (Oakland A's), John Farrell (Boston Red Sox), Ron Washington (Texas Rangers), Davey Johnson (Washington Nationals), Don Mattingly (Los Angeles Dodgers), and more, about the ways they lead their teams. In Lead Me Out to the Ballgame the reader will learn from the managers words how they create a winning team, a winning culture, and a team full of players who want to play for them. Lead Me Out to the Ballgame includes the perspectives of over one hundred MLB players, and uses stories they shared to illustrate what players think makes a manager effective and a manager who they want in their clubhouse. - How did Terry Francona, David Ortiz's manager on the Boston Red Sox in 2009, help him break out of a slump? - What does All Star Jose Bautista of the Toronto Blue Jays think are the most important qualities of a Major League manager? - How do players like Carl Pavano (Minnesota Twins), Pablo Sandoval (San Francisco Giants), Adam LaRoche (Washington Nationals, ) and others feel that lightheartedness and fun factor into a successful clubhouse? Lead Me Out to the Ballgame is filled with the answers to these questions, and many more. This leadership book is written for all those who want to develop their leadership skills, and especially those who have at least a passing interest in America's greatest past time It shows people at all levels, and in all industries, how to lead like a Major League Manager and develop Major League Leadership. **A portion of proceeds from the sale of this book goes to the Strike 3 Foundation (www.strike3foundation.org) and the fight against childhood cancer**
Major League Leadership Enterprises, LLC, 9780996088008, 230pp.
Publication Date: April 30, 2014