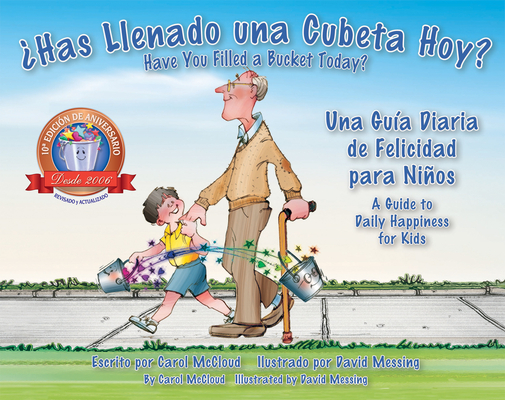 ¿Has Llenado una Cubeta Hoy?
Una Guía Diaria de Felicidad para Niños
Paperback

* Individual store prices may vary.
Other Editions of This Title:
Paperback (10/1/2015)
Paperback (5/1/2017)
Hardcover (10/1/2015)
Prebound (10/1/2015)
Hardcover, Chinese (12/1/2014)
Paperback (5/1/2006)
Description
 ¿Has Llenado una Cubeta Hoy "This book works wonders! My son kept telling me that he was sorry he dumped my bucket???? I could not understand how he knew that metaphor. I finally asked his teacher about it and she told me she had read this book to him ONCE. I had to buy one for myself and read it to him and my younger daughter. GREAT Book!"- Working Mama, Customer Review The best-selling, award-winning, 32-page picture book has now been translated into Spanish! Por medio de prosa simple y dulce, y lasilustaciones vivas, deeste tierno libro anima al comportamiento positivo asi muestra a los niños que fácil y gratificante es expresar como sersimpatico, apreciado, y amado todos los dí­as.

Publications by Bucket Fillers:
·Have You Filled a Bucket Today?
·Fill a Bucket
Growing Up with a Bucket Full of Happiness
·My Bucketfilling Journal
·Will You Fill My Bucket?
·Bucket Filling from A to Z
·Bucket Filling from A to Z Poster Set
·My Very Own Bucket Filling from A to Z Coloring Book
·BABY'S BUCKET Book
​ ·Buckets, Dippers, and Lids
 
Bucket Fillers, 9780996099950, 32pp.
Publication Date: October 1, 2017
About the Author
Carol McCloud, the Bucket Lady, is an early childhood specialist, award-winning author, and popular speaker. Her first book, Have You Filled a Bucket Today? A Guide to Daily Happiness for Kids, was published in 2006. As president of Bucket Fillers, Inc., in Brighton, MI, she leads a small team of educators that travel around the world with one goal in mind: to help create happier lives. Carol is a graduate of Oakland University School of Education (Rochester, MI), a certified Emotional Intelligence Trainer, and long-time member of the National Association for the Education of Young Children (NAEYC). David Messing is a life-long artist, illustrator, cartoonist, sculptor, writer and instructor. For thirty years, Dave, along with his wife, Sandy, and in more recent years their boys, Scott, Kevin and Adam, have taught in their family-owned art school. Although Dave spent many years designing and building props, sets, and miniatures for film and print commercials and almost every auto manufacturer, his current passion is cartooning and book illustration.