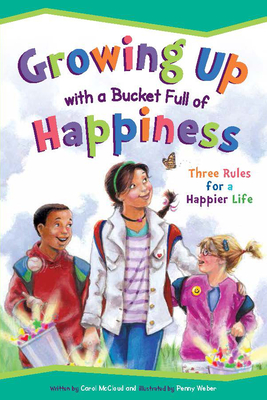 Growing Up with a Bucket Full of Happiness
Three Rules for a Happier Life
Paperback

* Individual store prices may vary.
Description
Updated and revised, this 10th Anniversary Edition sequel to the blockbuster hit, Have You Filled a Bucket Today? A Guide to Daily Happiness for Kids, advances the bucketfilling concept for pre-teens, teens, and adults. Growing Up breaks new ground through expanded language as it teaches the value of kindness, self-control, resilience, and forgiveness in a world that is not always kind. Readers gain a better understanding of all the ways they can fill and dip into buckets and how to use their lid to keep their own bucket full. Easy-to-read chapters, poignant illustrations, and daily self-reflection questions encourage readers to use their individual power of choice to be daily bucket fillers. Join the thousands of people of all ages and occupations who have read this book, taken the pledge, and practiced the daily skills to happier living.
Praise For Growing Up with a Bucket Full of Happiness: Three Rules for a Happier Life…
". . . illuminating to children trying to figure out their responsibilities to others—and will clarify the thinking of adults as well. An inviting guide for children (and their parents) to cultivating happiness and helping others." —Kirkus Reviews
Bucket Fillers, 9780996099998, 88pp.
Publication Date: August 1, 2020
About the Author
Carol McCloud, the "Bucket Lady," is the author of ten books, which began with the ever-popular Have You Filled a Bucket Today? A Guide to Daily Happiness for Kids in 2006. By trade, Carol is a speaker, author, and certified emotional intelligence trainer. Her books have sold three million copies and have been translated into many different languages. A champion for bucket filling, Carol works with a powerful presenter team who strive to help all ages and occupations grow in kindness, self-control, resilience, and forgiveness, all leading to a happier life. For more information, visit bucketfillers101.com. Penny Weber is a full time illustrator from Long Island, New York. Penny attended the School of Visual Arts in New York City where she studied graphic design and illustration. She works on Photoshop creating digital paintings and has illustrated many picture books for the trade and educational markets. Penny lives with her husband, three children, and their fat cat, Tiger. For more information, visit pennyweberart.com.