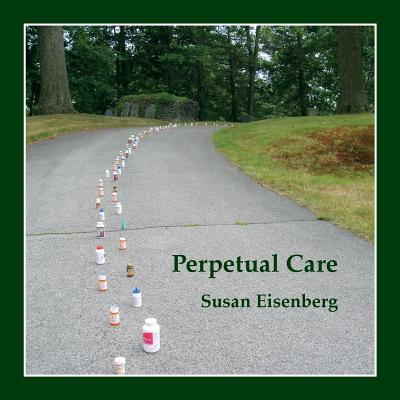 Perpetual Care (Paperback)
Third Rail Press, 9780996131001, 82pp.
Publication Date: March 19, 2016
* Individual store prices may vary.
Description
Poet and visual artist Susan Eisenberg's fourth collection lyrically explores the particular doctor-patient relationships, medical experiences, encounters, and adjustments of longterm chronic illness. Perpetual Care takes the reader from "whirlpools/of symptoms that shifted shape," through diagnosis of lupus and thyroid cancer, to navigate between scares and dailiness. Striking fine art photographs of her medication bottles traversing a Victorian cemetery through changing seasons, complement these strong poems.

From the back cover:
"In this powerful collection, Eisenberg captures the essence of being a patient in the modern health care system. Always poignant, at times playful, Eisenberg's economical and evocative words allow the reader to experience the full array of emotion associated with being a patient. I have shared these treasures with my patients and professional colleagues alike. So real, so true, so honest--at times breathtaking "
--Donald I. Abrams, MD, Chief, Hematology-Oncology, San Francisco General Hospital

"Incisive, lively, witty, Perpetual Care brilliantly defies its subject matter. Using an impressive range of forms, styles, and metaphors, Susan Eisenberg draws us deeply into the emotional complexities of a 'flock of illnesses.' Whatever your background--as patient and/or provider--you will find this book difficult to put down. The poet's striking photographs add resonance to both the title and these surprisingly hopeful poems."
-- Martha Collins, poet, Blue Front

"Through this haunting collection of poetry and photographic images, we bear witness to the patient's experience with the uncertainties of illness, the sharp edges of the health care system, and the communication divide between patient and doctor, guided, challenged, inspired, and humbled by Eisenberg's stark humor, wisdom and resilience." --Barbara Gottlieb, MD, Brigham and Women's Hospital, Boston