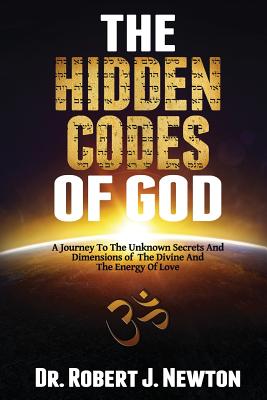 The Hidden Codes of God
A Journey to the Unknown Secrets and Dimensions of the Divine and the Energy of Love
Paperback

* Individual store prices may vary.
Description
Alternative history - not like most one would expect to read, but one certainly to have you reconsider a new perspective in spirituality, sexuality, life, and love. Dr. Robert J. Newton takes readers on a journey, through a wildly intelligent and questioning character, James. From an early age James had questions that could not be answered by his parents, teachers, or preachers. His intense "thirst" to know more about life's most complicated questions not only caused friction within his family and teachers, but also cast James as social outcast until he was introduced to the Science of Christianity. In his high school years, James began to uncover answers within the Science of Christianity to lifelong questions that previously eluded him. His relentless pursuit to understand the complexities of life leads him to an esoteric and erotically eye opening journey in which he discovers "The Hidden Codes of God." James encountered society's unwillingness to listen and accept what he learned about the energy of Love and the multi-dimensional Universe wherein it exists This caused many failed relationships where lasting romance eluded him until he reconnected with a former soul mate, who not only understands and accepts what he has discovered but someone who desires to accompany him in his quest of "The Hidden Codes." As an adult, James owns and operates an award-winning landscaping business where his inspiration is completely drawn from his continual enlightenment. Ultimately, he comes to the conclusion that regardless of how they may be received, the codes that have been revealed to him must be shared and thus he is led to write his magnum opus.
Great Motivational Talks, 9780996137102, 298pp.
Publication Date: March 26, 2015
About the Author
Dr. Robert J. Newton has lived his life much in the manner he writes... with a quest to surround himself with the highest level knowledge in the myriad areas that ensure we live rich, full lives. His education has been extensive, ranging from Speech and English at Cal State Fullerton, to a Juris Doctorate from American College of Law, and many certifications in alternative healing. He formalized his career in Naturopathic Medicine as a graduate of Clayton School of Natural Healing. Newton has lived to serve others; operating an award-winning landscape and design company for many years, as a Christian Science healer for two decades, and more recently as an author, speaker and life and relationship coach. Yoga, Metaphysics, Spiritual Sciences, Natural Healing, World Religions, Ancient Hermetic teachings... this philosopher and champion for the world has tapped into the roots of spirituality, sexuality, life and love-all with the purpose to enlighten those with a common desire to utilize multiple methods and strategies to approach life more effectively, creatively, radiantly and with great abundance.