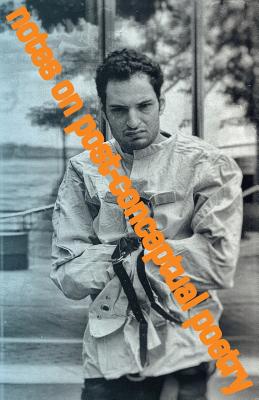 Notes on Post-Conceptual Poetry (Paperback)
Insert Blanc Press, 9780996169639, 170pp.
Publication Date: April 6, 2015
* Individual store prices may vary.
Description
Notes on Post-Conceptual Poetry by Felix Bernstein with a Preface by Trisha Low and "What's Not to Like: A Concluding Conversation with Vanessa Place" Paperback, 196 pages Dimensions 5.5" x 8.5" x 0.5" Notes on Post-Conceptual Poetry by Felix Bernstein is an aggravated survey of contemporary poetry, art, and criticism; compounded by compulsive archaeological digging into the relics and ruins of Language poetry, Conceptual poetry, and Felix's own familiar familial corpus. Bernstein shows how our millennial postpostmodernism (Gaga feminism, Alt lit, New Sincerity, Queer Theory, Post-Conceptual poetry, Speculative Realism, Metamodernism, Post-Internet Art) has brought a decline in incisive and dialectical criticality, an overemphasis on social networks, slapdash viral superstars, and a hyper-mediated institutionalization of affect. Repressing their latent (modernist) structuralism and (postmodernist) irony, these millenials claim to forge an Ur-romantic turn to sheer materiality and the great outdoors-where authorial singularity and hierarchical distinction allegedly melts away into an ecologically abundant queer utopia. It seems unfair that Felix Bernstein should both be born into the position of heir to a famous poetry surname and be something of a genius-should such a slim boy be burdened with both? It's enough to make one flap one's humid veil like a frog-duenna. Yet this book is one of sheer pace and fitful pleasures, post-conceptualism's 'death of the work' a reinvention of zero, as intrepid Felix nimbly parries with the spectre of Kenny Goldsmith, with various twentieth-century proper nouns, with family/literary history, and, always, with himself, a tail-chasing enterprise which traces another zero which is also an infinitesimal stage. Viva Felix, and I look forward to decades more of this mad business.-Joyelle McSweeney Bernstein attempts the most explicit and energetic deconstruction of prevailing avant-garde social minutiae I've yet encountered. In fact, I'm not sure I've ever read a text more intelligibly self-aware. Drawing on thinkers from Deleuze to Lacan to Love to Ngai to Badiou to Barthes to Perloff, and combining a Zizekian X-ray vision with the biting "you can't scare me" of youth, Notes constitutes Bernstein's irruption into/refusal of the institutional avant-garde.-Monroe Lawrence, The Capilano Review Notes counter-canonically induces its subjects by way of negative generational reconnaissance and horrifically attritional complicity. It's tough: sheaving a set of contemporaneous cultural productions, this work of maddened criticism plays privilege up the transplatformal compound it flexes to obscure a punctum.-J. Gordon Faylor, Gauss PDF Even tho he's that total know-it-all boy in high school you gotta love him cuz he's also totally twisty and dark too. As in somber. Like a jewish intellectual Edward from twilight. I think we all dig boys with good breeding who are a little smart and crazy and blood thirsty. So why not try him out? It'll be a fun ride, if nothing else.-Hilary Duff Felix Bernstein debuted on YouTube with his real and satirical "Coming Out Video" in 2008 and went on to play characters from Amy Winehouse to Lamb Chop to Leopold (peter) Brant. His critical and uncritical writings have been published, or are forthcoming, in The Brooklyn Rail, Htmlgiant, The Volta, GaussPDF, Imperial Matters, Coldfront, Boston Review, The Believer, and Bomb. With Gabe Rubin he fronts the band Tender Cousins. The ambiguous duo directed and starred in Red Krayola's opera Victorine at the 2012 Whitney Biennial and directed the films Unchained Melody and Boyland. Their next film Sweetly about Nazi-ish punk kids killing JAPS and Hipsters in Manhattan is in pre-production. You can experience all of the above, but slower, at www.felixbernstein.com.