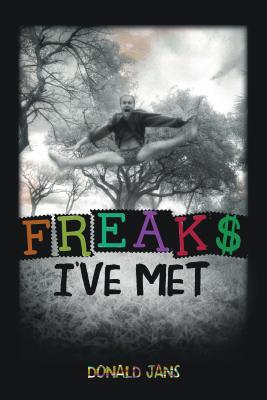 Freaks I've Met (Paperback)
Sheabeau Publishing, 9780996175609, 208pp.
Publication Date: June 1, 2015
* Individual store prices may vary.
Description
Spokane, Washington, is nearly perfect for most people, but Jack Fitzpatrick is not one of them. Hours after graduation and armed with his final paycheck from his nemesis, Jack heads for Southern California. Dreams are a dime a dozen in the City of Angels. Broke, barely scraping by, and hating his life as a temp, L.A. is definitely not what Jack expected. But after reading "Best Paying Jobs of 1987" in Time magazine, he decides to go after the only one he thinks he has a shot at: institutional bond broker. Once frustrated that his dazzling lack of experience keeps getting in the way, Jack is ecstatic to land a job at Freedom Capital, a no-name firm with a hire anybody mentality. Pumped to be on his way to his first few million, Jack eagerly engages in the challenged ethics of his new employer. When a series of innocent events lands him in prison, he's sure things can't get any worse. He would be wrong.
Praise For Freaks I've Met…
From Kirkus Reviews

A Spokane college graduate searches for wealth and fame in LA but finds only a string of dead-end jobs and outlandish individuals in Jans' witty debut drama. In 1987, Jack Fitzpatrick's plans to be rich and famous are off to a good start. Beverly Hills talent agent Alain Michaels tells Jack that he can find him work as a model in California. But when the modeling gig doesn't pan out, Jack's more determined than ever to make it on his own instead of returning to Spokane. He stays with a friend and runs through a few temp jobs, finally finding success as a bond broker. Jack makes good money at bond firm Freedom Capital Markets, but he soon realizes that he wants to share it with someone.The author's Bukowski-esque tale has an ordinary protagonist immersed in extraordinary circumstances. Jack's escape from his Spokane roots, for instance, is sublimely epitomized by Mrs. Pohlkiss, an affluent neighbor who looks down on him and who's immediately on his mind at the slightest sign of failure. Likewise, Jack, while certainly not naïve, is faced with obstacles he's never considered—complacency or boredom with a job and a revolving door of co-workers, some of them friends who leave too soon and a shady few who are considerably less friendly. Jack's nonchalant narration manages to take the bite out of the story's darker bits, like the protagonist's eventual arrest and incarceration, as well as the toilet humor. Other characters, too, have their comic moments: Noah's wife, a millionaire by inheritance, still demands that her husband get a job. Jans wisely saves details about Jack's dog until later in the story. Jack's goal continually changes throughout the novel—he wants fame, success, and maybe even a wife—but what he truly craves is finally answered in a satisfying coda that's both over-the-top and a little endearing. An engrossing but tongue-in-cheek drama that, even at its most dramatic, will leave readers smiling.

Foreword Reviews--Freaks I've Met is an entertaining, raucous novel with a bit of a lesson at its heart.

In Freaks I've Met, Donald Jans delivers a riotous bromance centering a recent college graduate with a heart for, and potentially even of, gold. Irreverent prose and wild situations make for entertaining reading in a novel that, despite the unapologetic vices of its narrator, works its way toward a revelation.

All twentysomething Jack wants is out of Spokane, but he'll take a fortune and riches with his escape if they're available. Chasing promises from a sleazy modeling agent, he winds up in Los Angeles, where dazzling promises dissipate with disappointing speed. But Jack is determined to grab onto some late-eighties wealth, and so charms his way into work as a stockbroker, where morals are always secondary to the sale.

This is a tale replete with sex, substance abuse, dishonesty and people-using, but somehow the narrator, Jack, maintains charm throughout. Jack's likability is all the more surprising when one considers the situations he gets himself into—landing friends in trouble with their indulgent mothers, unthinkingly rattling off racial stereotypes while dating girls meant to expand his romantic horizons, and flirting with illegality on the trading floor. But even at his most shameless and vulgar, there's an "aww shucks" quality to Jack's speech that's appealing.

Jack cultivates naïveté, seemingly determined to grab ahold of whatever glitters, consequences be damned: "I needed a job like … the stockbroker. He was a pretty cool guy with a huge house and a pool, and he sure seemed to be home an awful lot to enjoy it. I guess that was mostly during his FBI investigation, but still, his job seemed perfect." Jack's crash landing can be sensed coming long before the scene for it is set; but it seems Jack knows it's coming, too, and is resigned to enjoying the ride for as long as it lasts.

The comedic flavor of Freaks I've Met is certain to appeal to those who remember the fecklessness of youth with any degree of longing, just as Jack's comeuppance is likely to serve as a reminder of why such free-wheeling is not always well advised. There's a degree of warning in this endlessly fun novel that removes it from the realm of strictly guilty pleasures.

There's so much fun to be had here that readers are unlikely to begrudge Jans a bit of final cheesiness. Freaks I've Met is an entertaining, raucous novel with a bit of a lesson at its heart.