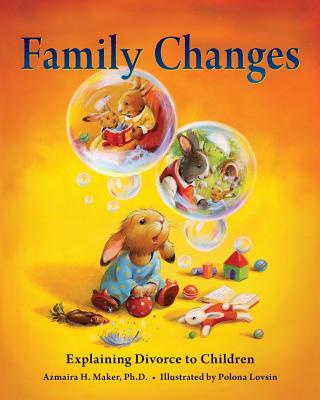 Family Changes
Explaining Divorce to Children
Paperback

* Individual store prices may vary.
Description
"Divorce" is a big word...especially for little kids. It's hard for young children to understand what the word means, let alone how it will impact their lives-and it's hard for us, as grown-ups, to explain it to them in terms they can fully comprehend.
Nonetheless, when a child is involved in a family divorce or separation, it is crucial that he or she understands and embraces the changes... and this book will help you explain the transitions to your child.
"Family Changes" is a delightfully informative children's book that tackles a complicated topic in compassionate, child-friendly terms. Ideal for young minds aged four through eight, it features a colorful cast of fuzzy characters led by a young bunny named Zoey, who is struggling with her parents' divorce and is riddled by important questions and feelings your child is likely to encounter.
In addition to the heartfelt story at its core, "Family Changes" also offers parents, therapists, teachers, and caregivers valuable information on how to ease children through this significant life change. A comprehensive note to parents and a list of essential child-focused questions are provided to guide the adult and child, and are certain to be an asset to both children and adults involved in the divorce/separation process.
Aspiring Families Press, 9780996194105, 36pp.
Publication Date: May 28, 2015
About the Author
Azmaira H. Maker, Ph.D., is a licensed clinical psychologist who has been working with children, parents, and families for nearly twenty years. She holds a bachelor's degree in psychology from Vassar College, and received her doctoral training at the University of Michigan, Ann Arbor, her post-doctoral fellowship training at the University of Michigan Hospital, Department of Psychiatry, and specialized training at the Child Advocacy Clinic at the University of Michigan Law School. Dr. Maker specializes in child development, parenting, and psychotherapy and has extensive experience working in hospitals, schools, clinical agencies, and nonprofit organizations. She has also taught and supervised graduate and undergraduate students in play therapy, family therapy, and parent guidance, and has published several research and theoretical articles in scientific, peer-reviewed professional psychology journals. She brings a wealth of experience working with divorcing families to her debut title, "Family Changes," which is certain to educate, enlighten, and empower children and parents.
or
Not Currently Available for Direct Purchase