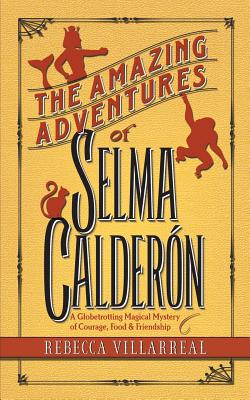 The Amazing Adventures of Selma Calderon
A Globetrotting Magical Mystery of Courage, Food & Friendship (Truth & Magic #1)
Paperback

* Individual store prices may vary.
Description
What if you could travel the world, go back in time, and eat your favorite foods along the way, all the while unraveling the mystery of your missing parents?
Recently moved to Chicago, fifth-grader Selma Calderon wants to use her magic to explore the world. She's planning trips to Paris to taste a caf au lait and a chocolate-filled croissant, to Uganda to see the mountain gorillas with her best friend, Hurley, and to Spain to visit the Alhambra palace. But she's not supposed to use magic without permission from Guadey, her guardian, not even to do her homework, or to deal with the school bully, or to uncover the mystery of her parents who went missing when she was two.
Will Selma finally discover the truth about her parents and get to learn more magic, or will her impatience land her in some deep time-travel trouble?
Praise For The Amazing Adventures of Selma Calderon: A Globetrotting Magical Mystery of Courage, Food & Friendship (Truth & Magic #1)…
"In The Amazing Adventures of Selma Calderón I stepped into a magical world where I could feel the characters' emotions. Excited, nervous, and always wanting to know what would happen next, I did not want to put this book down."
—Diego Esparza, 7th grade

"Rebecca Villarreal's middle school novel uses magic realism to capture the attention of young readers while introducing people and places of note—from the poet Lucille Clifton to the Alhambra in Spain. Every child who has wished they could use magic to travel (and who hasn't?) will enjoy seeing the world with Selma Calderón, especially when she skips class to travel to do research for a school assignment. The Amazing Adventures of Selma Calderón taps all the senses with aromas and tastes of chilaquiles in Chicago and chocolate croissants in Paris, the light and colors of the Alhambra, and the sounds of poetry at home. In an age-appropriate way, the reader also sees Selma deal with a range of emotions, from happiness with her friend Hurley to grief at the loss (possibly aban-donment) of her parents."
—Deborah Menkart, Executive Director,
Teaching for Change

"I really liked Selma. She reminds me of myself! I'm always curious and wanting to know more. I liked the whole magic and adventure thing."
—Susana Cárdenas, 6th grade

"I really liked your book! All the places that Selma went sound very interesting. I really like that Selma and Guadey have magic powers. I think it was cool that you added those reports about countries because a lot of kids have to do reports in school. I like that you added Amelia in your book. You did a wonderful job."
—Amelia Hoch, 4th grade

Mama Chelo Press, 9780996208826, 240pp.
Publication Date: August 8, 2015