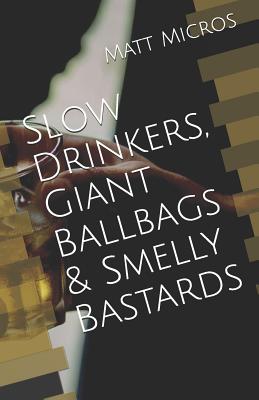 Slow Drinkers, Giant Ballbags & Smelly Bastards (Paperback)
Micropulous Press, 9780996252638, 142pp.
Publication Date: March 11, 2017
About the Author
Matt Micros received a B.A. in American Studies from the University of Notre Dame and his M.S. in Television, Radio and Film from Syracuse's Newhouse School of Communications, before spending seven years in Los Angeles working in television and video production. He has donned the "referee shirt" for the popular kids game show, "Wild and Crazy Kids," and claims to have attended more weddings than anyone else in the world after working as a wedding videographer, followed by a stint at Creative Artists Agency. A former high school Athletic Director and Math teacher, he currently runs a youth soccer club and coaches the women's soccer team at Post University. His diverse work experience frequently provides the backdrops for his novels, beginning with "The Knights of Redemption" and "The Chameleon"-both released in 2014. "Five Days," released in June of 2014, has garnered rave reviews and has been adapted into a screenplay, while "Nick Nelson Was Here" and the sequel to "The Chameleon"-The Greatest Mann in the World-continue to climb the seller lists. His most recent novel, "The Music Box" is one of the highest rated books on Goodreads. Matt currently resides in Stratford, Connecticut with his wife, Katy, and their crazy, but lovable yellow and black labs, Mr. Beans & Mr. Bode.
Advertisement