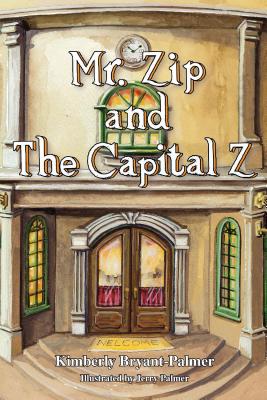 Mr. Zip and the Capital Z (Paperback)
Capital Z Books, LLC, 9780996254601, 37pp.
Publication Date: July 15, 2015
* Individual store prices may vary.
Description
After a terrifically hard and terribly disappointing day before the Fourth of July, Peanut Johnson, wandering aimlessly down Main Street, stumbles upon The Capital Z, a This and That Shop. Stepping inside, he meets Mr. Aloysious Zip, the kind and eccentric shopkeeper, who introduces Peanut to a most wondrous place. There are toys and trinkets, model cars and miniature wagon trains, even memorabilia from days gone by--"reminders," says Mr. Zip with an air of mystery.
Discovering "everything from A to Z" inside The Capital Z, Peanut also finds history unfolding before his very eyes. Touching a Kentucky rifle hanging on the shop wall, he is transported to the wilderness where he sees his Great-Great-Great-Great Uncle Milkweed Johnson fighting in Andrew Jackson's regiment during the War of 1812. George Washington's sword brings Peanut onto the battlefield where the General, on horseback, dodges bullet after bullet. And while staring at a beautiful stained-glass window depicting the building of the Tower of Babel, Peanut finds himself in a crowd of angry and confused spectators, all speaking different languages
But Peanut's visit to The Capital Z turns out to be much more than a journey through history. As he peers into the past with his Uncle Milkweed and some of America's greatest leaders, he finds courage and hope to face his own mistakes, taking his first steps from boyhood to those of a young man.
About the Author
Kimberly Bryant-Palmer never dreamed of becoming a writer, but always loved reading--her favorite authors being James Michener, J.R.R. Tolkien, and Harper Lee. Kimberly received her Bachelor of Arts degree in both music and biology from Mary Washington College (now The University of Mary Washington). While in graduate school, studying music theory, she worked a short time in cancer research before going on to write and record a CD, Just Enough. But it was when she met an artist named Jerry Palmer, and wrote the introduction for a book idea he had carried in his head for 25 years, that she found what she truly loved to do.Mr. Zip and The Capital Z, a story of restoration and hope, tells of a young, dark-skinned American boy, Peanut Johnson, who has just endured "a terrifically hard and terribly disappointing day." In this tale, Kimberly explores matters of the heart while taking her readers on a magical journey through history.As she wrote, Jerry sketched the characters, and together, they brought the eccentric Mr. Zip, the tenderhearted Peanut, and his hilarious, lovable family to life. Jerry Palmer started drawing and painting at the age of three. Celeste Cunningham, his eighth grade art teacher and his high school art teacher, Mary Rodgers Turner, both recognized and encouraged the artistic talents they saw in him giving him the inclination and courage to pursue art in every medium. After high school, he then went to Harding University in Searcy, Arkansas where he received a Bachelor of Science degree in Art. While there, he developed Spring Sing, an all school musical production used in recruiting new students to Harding. His professional career includes set design and work on music videos, as well as television and film production. He worked as a scenic artist first, then as Art Director at The Nashville Network (TNN) in conjunction with The Grand Ole Opry. Since that time, he has worked with clients doing portraiture, sculpture, wall murals, furniture design and illustration. He now resides with his wife, Kimberly, in Franklin, Tennessee.
or
Not Currently Available for Direct Purchase