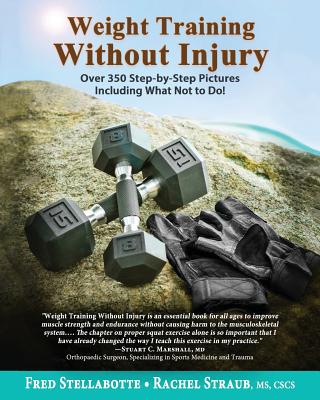 Weight Training Without Injury
Over 350 Step-by-Step Pictures Including What Not to Do!
Paperback

* Individual store prices may vary.
Other Editions of This Title:
Hardcover (7/1/2016)
Description
The exercise will never hurt you--only improper form causes injury. Master the essentials of proper weight training and be safe while performing the squat, lunge, leg press, lat pulldown, reverse fly, bench press, chest fly, shoulder press, shoulder raise, biceps curl, triceps extension, plank, and more
With over 350 full-color, step-by-step photos, Weight Training Without Injury's unique, revolutionary approach teaches right from wrong at every step with meticulous attention to detail.
Stellabotte and Straub's mission is simple: to enable you to master proper form and prevent injury when lifting weights. This book blends 50 years of experience and success with current scientific research (over 90 peer-reviewed publications are referenced)--all explained simply and organized in a clear format that is easy to follow.
The techniques learned here can be applied to exercises found in any bodybuilding, strength training or resistance training manual or program, making Weight Training Without Injury indispensable for the beginner, the seasoned gym goer, and the professional trainer.
Praise For Weight Training Without Injury: Over 350 Step-by-Step Pictures Including What Not to Do!…
"... This guide ... should be mandatory reading before setting foot into any gym."
—Publishers Weekly

"... The chapter on proper squat exercise alone is so important that I have already changed the way I teach this exercise in my practice."
--Stuart C. Marshall, MD, Orthopaedic Surgeon, Specializing in Sports Medicine and Trauma

"... The attention to detail is unparalleled among other texts in the field. If you were going to read and use only one book on weight training, this would be it!"
--Christopher M. Powers, PT, PhD, FACSM, FAPTA, Professor, USC Division of Biokinesiology & Physical Therapy

"... Weight Training Without Injury is brilliant--it educates the novice, as well as the professional, on how to train without injury."
--Dave Draper, Mr. America, Mr. Universe, Mr. World in several competitions, 1965-1970, Author of Brother Iron, Sister Steel: A Bodybuilder's Book

"A clear and comprehensive guide, backed by scientific evidence and decades of real-life experience. A must-have for anyone needing to weight train safely--which is just about everyone."
--Frank Winton, MD, Family and Sports Medicine

"I absolutely love Stellabotte and Straub's book Weight Training Without Injury! ... It has a strong focus on feet and hand placement, head and neck alignment, spine and hip range of motion, and shoulder and knee joint stability. Science in the weight room--LOVE IT!"
--Stew Smith, CSCS, Former Navy SEAL, Tactical Fitness Author, Special Ops Team Coach at the US Naval Academy, Founder of Heroes of Tomorrow and Stew Smith Fitness

"... The methodologies in this book are sound, with scientific backing, and are presented in a very organized and easy-to-read manner. I definitely recommend this book to everyone that wants to train with great technique and excel in their respective fields."
--Jon Sanderson, MS, CSCS, RSCC, SCCC, USAW, FMS, TPI, Head Strength and Conditioning Coach, University of Michigan, Men's Basketball, Men's/Women's Golf

"Weight Training Without Injury is an indispensable, user-friendly guide, especially for the beginning lifter ... photos of correct (and incorrect) body positions ... for every step, make it possible to master proper technique when lifting weights..."
--N. Travis Triplett, PhD, CSCS,*D, FNSCA, Professor of Exercise Science, Appalachian State University
Regalis Publishing, 9780996263818, 294pp.
Publication Date: January 1, 2016