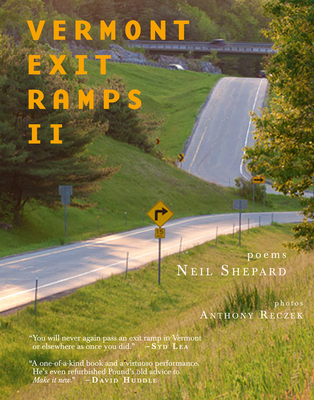 Vermont Exit Ramps II (Paperback)
Green Writers Press, 9780996267649, 140pp.
Publication Date: November 2, 2015
* Individual store prices may vary.
Description
By turns comic and elegiac, full of signs and portents, Vermont Exit Ramps II takes readers on a physical and emotional journey through the Green Mountain State. Combining a reporter's instincts with a poet's eyes and ears, Shepard invites the reader, exit ramp by exit ramp, to wander through the surrounding ramplands, towns, and hilltop farms and to discover historical realities and imagined alternatives. Through his lyrical reportage, Shepard incorporates "found" material--road signage and weather reports, birdcalls and mammal-chatter, Chinese fortune cookies and scrambled anagrams, snippets of literary texts and local pamphlets--into poems that are as layered as the natural and human history that make up contemporary Vermont. This virtuosic performance will serve as a spirited primer for first-time visitors while making long-time Vermonters see the land they thought they knew with fresh eyes.