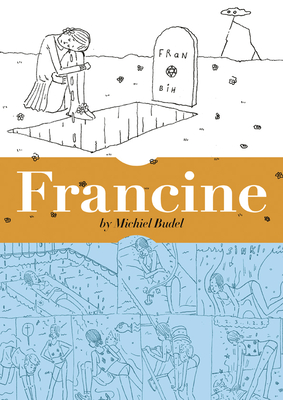 Francine
Paperback

* Individual store prices may vary.
Description
Budel's brilliant comic features pubescent girls in various states of undress as they discuss imperialism, economics, and constant war, among many other global-political topics germane to the 21st Century. . . . Maybe the quintessential comic of the two-thousand-and-teens. --John Porcellino, author of the Hospital Suite
With its fascistic imagery, pubescent sexuality, raucous humor, and complex political allegory, the anonymously posted webcomic slechtemeisjes became an instant cult phenomenon, hailed as the Greatest Comic of All Time by Comic Book Resources.
Now, one of the world's most enigmatic, controversial, and provocative webcomic creators, Michiel Budel, delivers his debut graphic novel, Francine. Teens can be deceiving, and Francine is exceptionally so. She murders her bully, fakes her own death, steals her best friend's mother, and makes any situation uncomfortably sexual. She's awful. Everyone loves her. You will, too. Recommended for immature readers only.
Francine is Michiel Budel's debut graphic novel, but he is an artist with a following.
Michiel Budel revealed himself as slechtemeisjes' creator in 2011, publishing a pair of slechtemeisjes comic books under the loosely translated title of Wayward Girls. His comics have since appeared in several print anthologies and journals including the internationally acclaimed kus anthology, Lumpen Magazine, and Smoke Signal. He still posts comics at slechtemeisjes.nl and at Medium. Budel and his Wayward Girls were even the subject of a news feature on VRPO, Dutch public television.
Secret Acres, 9780996273978, 84pp.
Publication Date: October 10, 2017
About the Author
Michiel Budel lives and works in Amsterdam (Holland). He studied Illustration and Theater Design at the Minerva Art Academy in Groningen. He subsequently held several office jobs and studied to become an art teacher. He has published his drawings and comics on his website, slechtemeisjes.nl, since 2011. Budel draws his inspiration from the work of Joost Roelofsz and film audio commentaries by directors and film connoisseurs. He wishes to become a director of horror movies. Sadly, since he has no cameras and no education in this field, he enjoys writing and drawing his own comics.