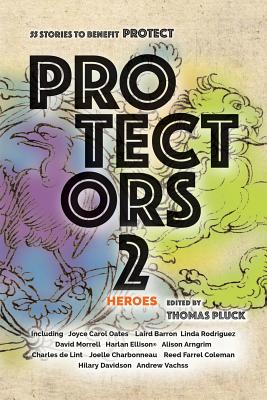 Protectors 2 (Paperback)
Heroes: Stories to Benefit PROTECT (Protectors Anthologies #2)
Goombah Gumbo Press, 9780996281522, 610pp.
Publication Date: September 15, 2015
* Individual store prices may vary.
Description
55 Stories to benefit Protect, the political lobby of the National Association to Protect Children, whose victories include the Circle of Trust act and the HERO Corps, which hires wounded veterans to assist law enforcement in hunting online predators.

Contributors include Andrew Vachss, Joyce Carol Oates, Harlan Ellison(R), David Morrell, Laird Barron, Linda Rodriguez, Charles de Lint, Hilary Davidson, Joe R. Lansdale, Joelle Charbonneau, Reed Farrel Coleman, SJ Rozan, and Alison Arngrim. 600 pages of fiction of all genres, poems and art, essays and memoirs, to fund one cause: to protect children from abuse and exploitation of all kinds. 100% of proceeds goes to PROTECT.

Table of Contents:
When ? by Linda Sarah
The Questions by Alison Arngrim
City Water by Allison Glasgow
Black and White and Red All Over by David Morrell
Silvia Reyes by P.J. Ward
Plan B by Andrew Vachss
Gatekeeper by Richard Prosch
The Night Watch by Susan Schorn
One Night in Brownsville by Gary Phillips
Silverfish by S.J. Rozan
Parental Guidance by Scott Adlerberg
Superhero, With Crooked Nails by Rachael Acks
Angel by Terrence McCauley
Mr. Nance by Linda Rodriguez
Something I Said by Bracken MacLeod
El Puente by Rios de la Luz
Mesquite by Graham Wynd
Level 5 by C.R. Jahn
On the Road to La Grange by Karina Cooper
Reprisals: Enmity by John A. Curley
The Whistler in the Graveyard by Chad Eagleton (illustration by Dyer Wilk)
Solar Highway by S.A. Solomon
Jibber Jabber by Reed Farrel Coleman
Doll: A Poem by Jyl Anais Ion (illustrations by Jyl Anais Ion)
Doggone Justice by Joe R. Lansdale
The Occurrence of the Black Mirror by Teel James Glenn
Sister Cecilia by Hilary Davidson
Croatoan by Harlan Ellison(R)
Little Howl on the Prairie by Thomas Pluck
Things Held Dear by Neliza Drew
49 Foot Woman Straps It On by Laird Barron
Moon Over the Midwest by Elizabeth Amber Love
Sixth Floor by Albert Tucher
Adamsville by Clare Toohey
Point of View by Will Graham
High Meadow Storm by Wayne Dundee
Out of Context by Joelle Charbonneau
Lone by Alex Segura (illustrations by Dennis Calero)
Love and Valour on 'the Victorian Titanic' by Gill Hoffs
Just Pretend by Martyn Waites
Freak by Charles de Lint
The New Heroes of the Old Fairgrounds by K.L. Pereira
When the Hammer Comes Down by Josh Stallings
Stretching Fifteen by Angel Luis Col n
Bounty by Jerry Bloomfield
Light-Bringer by Laura K. Curtis
Hercules and the Spawn of the Titans by Michael A. Black
How to Paint Your Dragon by Andrew D'Apice
Don't Fear the Ripper by Holly West Two Views by Tim Daly
A Hundred Pearls by Errick Nunnally
Snapshots by Christopher Irvin
Deceit by Joyce Carol Oates
The Perfect Weapon by Zak Mucha
An Open Letter to the Children of the Secret by Dionysios Dionou
Behavior is Truth by Gwyndyn T. Alexander
Pigeons for Protect by Linda Sarah