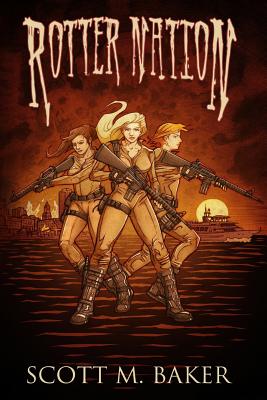 Rotter Nation
Paperback

* Individual store prices may vary.
Description
Despite being nine months into a zombie apocalypse, life had taken a fortunate turn for Mike Robson and Natalie Barzagan. Not only had their group retrieved the vaccine for the Zombie Virus from the underground military facility at Site R, they had found love with each other. That optimism is short-lived. When the group returns to its camp, a rape gang has destroyed the compound, murdered their friends, and kidnapped one of the young women.With everything they have achieved now destroyed, Robson makes the fateful decision to split his group. As he organizes a desperate attempt to rescue their friend from the rape gang, Natalie leads her Angels through a rotter-infested nation to bring the vaccine to the government-in-exile on Omaha. Both groups soon discover that everything that has happened to them up to now cannot compare with the horrors they are about to encounter."With Rotter World, Scott M. Baker pulls out all the stops in a zombie thriller that is brutal, violent and terrifying. Definitely not for the faint-hearted."-New York Times bestseller Jonathan Maberry, author of Patient Zero "Think there are no new or original zombie authors? Think again. Scott M. Baker provides an exciting voice and fresh outlook on the undead. Fun, compulsive reading."-Brian Keene, author of The Rising and City of the Dead"Scott M. Baker writes in the tradition of J.L. Bourne and Joe McKinney. Fans of thriller writers like Brad Thor will also find powerful, welcome similarities in Rotter World."-Scott Kenemore, author of Zen of Zombie"Scott M. Baker has managed to bring together the best of what I love about end of the world, vampire and zombie tales in one glorious story. If you think zombie and vampire stories are overdone and there is not anything new you can do with them, Rotter World proves that theory wrong."-Peter Schwotzer of Famous Monsters of Filmland.
Scott M. Baker, 9780996312103, 380pp.
Publication Date: May 24, 2015