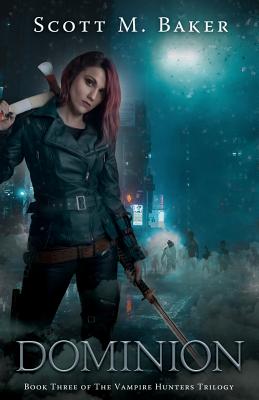 Dominion
The Vampire Hunters Trilogy Book III
Paperback

* Individual store prices may vary.
Description
After being lost for centuries, the Vampyrnomicon, the Book of the Undead, is unearthed and with it the terrible secret of the vampires' origins. The book's discovery gives vampire hunter Drake Matthews the means to defeat Chiang Shih and her nest. It also provides Chiang Shih with the knowledge required to make vampires immortal. When Chiang Shih raises an army of the undead and establishes a vampire nation in Washington D.C., she cripples Drake and his hunters. Driven by vengeance, and with his ranks swelled by unlikely allies, Drake leads the survivors back into the infested city. With the fate of humankind hanging in the balance, hunters and vampires wage the final apocalyptic battle in the streets of Washington to determine who will hold dominion over the earth.
Scott M. Baker, 9780996312165, 386pp.
Publication Date: June 30, 2016
About the Author
Scott M. Baker was born and raised in Everett, Massachusetts and spent twenty-three years in northern Virginia working for the Central Intelligence Agency. Scott is now retired and lives in Gainesville, Florida as a full-time writer along with his wife and fellow author Alison Beightol and his stepdaughter. He has written Rotter World, Rotter Nation, and Rotter Apocalypse, his post-apocalyptic zombie trilogy; Yeitso, his homage to the giant monster movies of the 1950s that he loved watching as a kid; The Vampire Hunters trilogy, about humans fighting the undead in Washington D.C.; as well as the novella Nazi Ghouls from Space (the title says it all). He is currently working on a series of young adult post-apocalyptic novels, a horror techno-thriller, and a second series about Allied intelligence officers fighting Nazi occultism in World War II. When not writing, Scott can usually be found doting on the two boxers and two cats that kindly allow him to live with them. Please visit the author's website at http: \\scottmbakerauthor.blogspot.com.