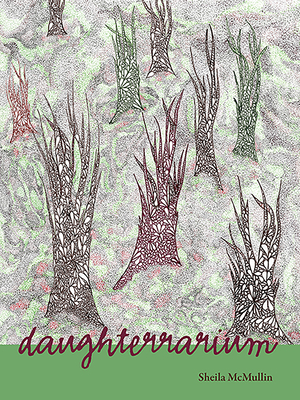 Daughterrarium (Paperback)
Cleveland State University Poetry Center, 9780996316750, 112pp.
Publication Date: April 1, 2017
* Individual store prices may vary.
Description
Poetry. Women's Studies. "In a dish of fevered poppies, glassy ranunculus, and red tide hunger, the daughter infects herself. She's infected by self, burning up until McMullin's cool hand runs across the DAUGHTERRARIUM's viral waters. Cancer, the crab, a sunrise that won't clot. The neogothic daughter, her many manifestations bleed together in this prize-winning jailbreak. She says t]ake me out of this bed and put me back in the grass, but really she's taking us. Out, back. Give her your hand or get out of her way." --Danielle Pafunda

"What are we born into? What does it mean to be loved by God and Earth? What do we owe and to whom? How does one experience the fusion of anger and shame in a mind and body? What do the doctors say to the bodies that are broken? Where do the bodies go when they are taken away from themselves? How does a body heal itself? How does a body degrade itself? How does a body mourn and survive the trauma of fear, pain and abuse? I admire DAUGHTERRARIUM for pushing too far, for making me cringe with its representations of what one human can do to another, of what a body can do to itself. McMullin takes a tenacious look at violence and the abject while also interrogating, with great compassion, the nature of faith, family and growth." --Daniel Borzutzky

"'There are those who have hurt you not because you are ignorant, but because you have a heart.' Sheila McMullin's DAUGHTERRARIUM is a collection of the kindest rage I have ever seen. The book chronicles, among its tendernesses, McMullin's refusal to turn the rage onto herself--'How not to blame myself for being fragile?'--and the difficulty of locating what is hurting us, or why, and how to heal a wound that is constantly re-opened. If you believe in rage, if you care deeply about women, then read this brilliant book again and again across your lifetime. Otherwise, 'You have to get out of the way.'" --Sarah Vap.
or
Not Currently Available for Direct Purchase