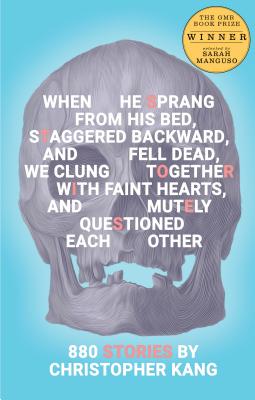 When He Sprang from His Bed, Staggered Backward, and Fell Dead, We Clung Together with Faint Hearts, and Mutely Questioned Each Other
Paperback

* Individual store prices may vary.
Description
Fiction. Winner of the GMR Book Prize. Christopher Kang's extraordinary collection, WHEN HE SPRANG FROM HIS BED, STAGGERED BACKWARD, AND FELL DEAD, WE CLUNG TOGETHER WITH FAINT HEARTS, AND MUTELY QUESTIONED EACH OTHER, resists easy classification. A daring, remarkable book that challenges on every read. These 880 stories taken together form a kind of sly, wondrous narrative whole, full in equal measure of humor, sadness, and brilliance. Kang is an ambitious writer, and this book is an achievement. Each of these stories contains a world, tilted on its own axis, strange, remarkable and bursting with heart.

Christopher Kang's brilliant first book, a steady accretion of Robert Walserian feuilletons, filled me with such quick strobes of delight and confusion and dismay and envy that, in the end, I mostly felt vertigo. This book is sly; it contains its own contradictions. It is a searing indictment of artistic ambition while being nakedly ambitious; it is self-reflective without a steady self to reflect; it is simultaneously starkly clear and confounding; and its intelligence is often punctured by humor and sentiment and near-aphorisms that ring so quietly and personally that I often wanted to write them in permanent marker on my skin.--Lauren Groff

Christopher Kang's work is mysterious, lovelorn, philosophical and often very amusing. Its lyricism is matched only by its daring. A remarkable book.--Lorrie Moore

These tiny novels or are they prose poems or pieces of a particle theory never let their genre indeterminacy cause blurring. Vivid as sword-thrusts, stroboscopic as a fall from a sudden precipice, marvelously stark as the outline of a pride of lions on the horizon, this book, sparkling like a bag of jewels, offers us the opportunity to live many lives without all those interstitial fascia. How about a shot of tequila? How about 880?--Dean Young.
Green Mountains Review Books, 9780996334235, 141pp.
Publication Date: February 5, 2017
or
Not Currently Available for Direct Purchase