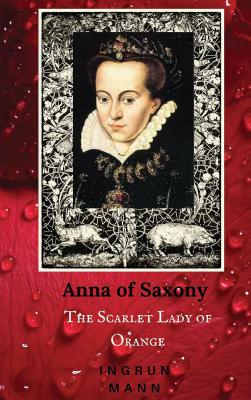 Anna of Saxony (Paperback)
The Scarlet Lady of Orange
Winged Hussar Publishing, 9780996365727, 354pp.
Publication Date: August 2, 2016
Other Editions of This Title:
Hardcover, Spanish (9/15/2017)
* Individual store prices may vary.
Description
A scandalous woman of the renassiance who made history

In the early 1570s, a scandal worthy of the court of Henry VIII set Europe's noble courts ablaze with one of century's most shocking marital debacles. Anna of Saxony (1544-1577), wife of the Dutch prince and rebel leader William of Orange, had embarked on a torrid love affair with the father of one of the age's greatest painters and was pregnant with her lover's child. The princess' pregnancy and subsequent descent into madness signaled the end of a troubled royal marriage that had begun full of promise and with one of the most spectacular wedding celebrations of the age.

Since her early youth at the glittering court of Dresden, Anna had been known as a difficult child and troublemaker. Servants complained about her violent outbursts, while courtiers bemoaned her general disregard for aristocratic female etiquette. Upon reaching her teenage years, the princess' guardians decided that Saxony's enfant terrible should leave home as quickly as possible by marrying a foreign suitor in a preferably far-away land. Enter William of Orange: handsome, charming, and heir to one of the Netherlands' largest estates. The fact that he was also a profligate partier and lover of women was conveniently overlooked. Anna immediately fell for the Dutch bon vivant despite warnings from a few well-meaning relatives. For one, William was a Catholic, while Anna adhered to the Protestant teachings of Martin Luther, critical voices cautioned, correctly predicting future trouble for the princess in the Catholic Netherlands. Furthermore, the prince's liege lord, the fanatical Philip II of Spain, very much disapproved of a match between his premier vassal and a "Lutheran heretic." There was also the issue of plain Anna's growing obsession with the roguish William; an obsession that was not reciprocated. In the end, the impetuous princess threw caution to the wind. No other than William would do for a husband, she insisted, while publicly announcing that "every vein in my body heartily loves him."

In addition to a great story there are over forty illustrations and appendices
About the Author
Ingrun Mann was born in Germany and lives in the United States. After receiving a master's degree in history from the University of Arizona, she served in the military for seven years. She is currently an adjunct lecturer of history and political science at St. Leo University's Eglin AFB branch as well as the local Central Texas College branch in Niceville, Florida.