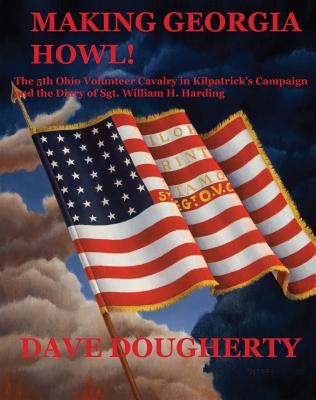 Making Georgia Howl (Paperback)
The 5th Ohio Volunteer Cavalry in Kilpatrick's Campaign and the Diary of Sgt. W. H. Harding
Winged Hussar Publishing, 9780996365772, 334pp.
Publication Date: July 5, 2016
* Individual store prices may vary.
Description
A detailed history of the 5th Ohio Volunteer Cavalry in the American Civil War The 5th Ohio Volunteer Cavalry Regiment fought over three years, from March 1862 to General Johnson's surrender in April 1865. It played a major role in Kilpatrick's Cavalry Corps on Sherman's March to the Sea; told as an overview of operations and through the diary of Sergeant William H. Harding. Confederate histories have often reported the regiment decimated and defeated in every battle, but this study presents the truth of the matter for the first time. Fighting in Judson Kilpatrick's 3rd Cavalry Division during Sherman's campaign through Georgia and the Carolina's doing everything that could be expected of them and acquitted themselves honorably against the Confederate commanders - Joseph Wheeler and Wade Hampton. This volume is the definitive study of the 5th Ohio and Kilpatrick's campaign in Sherman's army from Atlanta to the end of the war. Bonuses include the diary and letters of Commissary Sergeant William H. Harding present in Company K of the 5th OVC from August 1862 to July 1865.
About the Author
Dave Dougherty is a modern polymath with widely varied interests that have led him into many diverse careers, experiences, and achievements. He served as a lieutenant and captain in Army Intelligence's 513th INTC Group, and was a Professor of Management, Business, and Computer Science, most recently at the University of Texas, El Paso. He holds advanced degrees from Colorado School of Mines and Case Western Reserve University and advanced to candidacy for a PhD at both Case Western Reserve and the University of Maryland. He is a Registered Professional Engineer, and an entrepreneur in computers, being a pioneer in the use of client-server processing, the promotion of the cloud and ARPANET all during the 1970s, and later became arguably the world's most prolific applications programmer. History was always Dave's prime avocation, and he built one of the nation's premier collections in silver and gold ancient and medieval coinage to bring history to life. In Arkansas and Missouri, Dave is a radio personality discussing political problems through the lens of history and a rigid constitutionalist. Dave has authored over twenty academic papers and a number of books, including A Patriot's History Reader: Essential Documents for Every American, A Patriot's History of the Modern World, Volumes I and II, Starve The Beast!, The Gnosis Within, Landslide, and now Make Georgia Howl! The 5th Ohio Volunteer Cavalry in Kilpatrick's Campaign and the Diary of Sgt. William H. Harding.