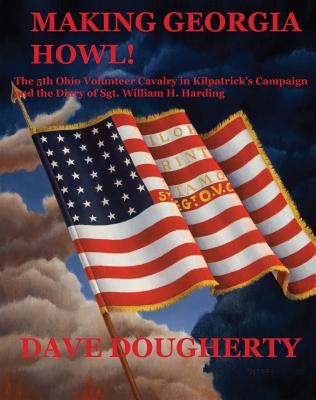 Making Georgia Howl! (Hardcover)
The 5th Ohio Cavalry in Kilpatrick's Campaign and the Diary of Sgt William H. Harding
Winged Hussar Publishing, 9780996365772, 336pp.
Publication Date: October 7, 2016
Other Editions of This Title:
Paperback (11/7/2017)
* Individual store prices may vary.
Description
The much-maligned Union cavalry prevailed through guts and dedication, losses and defeats, from Shiloh to Chapel Hill, North Carolina. Beginning the Civil War under General William T. Sherman, the 5th Ohio Volunteer Cavalry regiment fought over three years, from March, 1862, to General Johnston's surrender in April, 1865, finishing the war once again under Sherman. Confederates reported the regiment decimated time and again, defeated in every battle, but this study presents for the first time the truth of the matter. Fighting in General Hugh Judson Kilpatrick's 3rd Cavalry Division during Sherman's six month campaign through Georgia and the Carolinas, the 5th Ohio and all of Kilpatrick's cavalry did everything expected of them and more, earning the high praise of both Kilpatrick and Sherman. In particular, the volume looks closely at the generalship of Kilpatrick, Sherman, Johnston, and Confederate cavalry commanders Joseph Wheeler and Wade Hampton. Neither Wheeler nor Hampton acquitted themselves well against Kilpatrick, and the myths formed by various writers, including Wheeler himself, are contrasted sharply with the evidence. In Wheeler's case, the routine murder of Federal prisoners began long before Sherman's march through Georgia, necessitating a discussion of war crimes in which Sherman's depredations in Georgia and South Carolina are compared against Hampton's and Wheeler's actions. This work is the definitive study of the 5th Ohio and Kilpatrick's campaign in Sherman's army from Atlanta to the end of the war. Bonuses are the diary and letters of Commissary Sergeant William H. Harding, present in Company K of the 5th OVC from August, 1862 to July 1865.
About the Author
Dave Dougherty's knowledge of American history is encyclopedic, and he is the co-author of three books with Larry Schweikart, and a producer with Rockin' the Wall Studios. Formerly a professor of management and computer science at Cleveland State University and the University of Texas at El Paso, Dougherty also has had an extensive career in private industry, both as an executive and an entrepreneur. An ex-intelligence case officer, Dougherty specializes in intelligence history as well as military history.