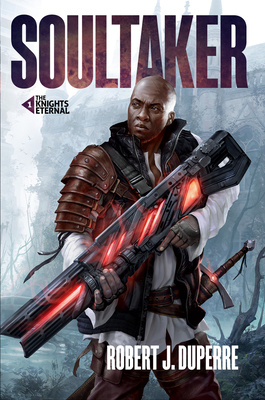 Soultaker (Knights Eternal #1)
Paperback

* Individual store prices may vary.
Description
It's been a thousand years since the Rising. Earth is a wasteland, and a holy order of knights is all that stands between what remains of civilization and the brigands and demons trying to bring it all down. When the oldest of these knights, Abe, isn't trying to keep his brothers in line, he's tirelessly attempting to decode the riddles that have guided the Knights Eternal for the past two centuries. The visions Abe's been having aren't helping matters. The latest riddle sends the Knights Eternal after a prophet and his band of Outriders. Or is it sending them to seek the Prophet's aid? It's a question Abe needs to be answered. With his sanity fleeing, more demons than ever rising from the Pit, and rumors circulating of an army of risen dead, failure for the Knights might end the world this time once and for all. Where else will reincarnated musicians become gun-slinging knights to patrol a post-apocalyptic wasteland? Only in Soultaker.
Outland Entertainment, 9780996399784, 265pp.
Publication Date: March 24, 2020
About the Author
Robert Duperre writes a combination of horror, science fiction, and fantasy, and is the author of several novels, including The Rift series, The Breaking World series, which he co-authored with David Dalglish, and his epic urban fantasy series The Infinity Trials. He is also a contributor and editor of two short story collections, The Gate and The Gate 2. He also, of course, wrote the book you're holding in your hands now. Robert lives in rural Connecticut with his wife, artist Jessica Torrant, and their new pup Rosie, a hyper-lovey mutt.