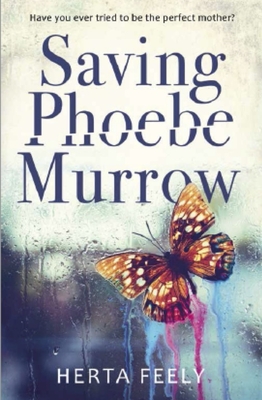 Saving Phoebe Murrow
Paperback

* Individual store prices may vary.
Description
Have you ever tried to be the perfect mother? Isabel, a DC lawyer, does everything she can to keep Phoebe from harm, but fails when the mysterious Shane appears on Facebook and flirts with her teenage daughter.
A story about the timeless struggle between mothers and their teen daughters with a razor-sharp 21st century twist. This heart-wrenching, harrowing debut novel for fans of Big Little Lies (Liane Moriarty) and Reconstructing Amelia (Kimberly McCreight) will make you question what's needed to keep your children from harm. Phoebe's mother, Isabel, is precariously balancing her career and her family.
Hard-working and caring, worried but supportive, all Isabel wants, in a world of bullies and temptations, is to keep her daughter Phoebe safe. With her busy schedule, though, she fails to recognize another mother's mounting fury and the danger Phoebe faces by flirting with a mysterious boy on Facebook. A cyber-bullying episode aimed at Phoebe pushes her to the edge with horrific consequences. In her search for justice, Isabel, a DC lawyer, sets out to find the culprit behind this cruel incident.
Saving Phoebe Murrow, set amidst the complicated web of adolescent relationships, tells a story of miscommunication and malice, drugs and Facebook, prejudice and revenge.
Upper Hand Press LLC, 9780996439565, 425pp.
Publication Date: September 2, 2016
About the Author
Herta B. Feely is a writer and full-time editor. Her short stories and memoir have been published in anthologies and literary journals, including The Sun, Lullwater Review, The Griffin, Provincetown Arts, and Big Muddy. In the wake of the James Frey scandal, Feely edited and published the anthology, Confessions: Fact or Fiction? She was awarded the James Jones First Novel Fellowship and an Artist in Literature Fellowship from the DC Commission on the Arts and Humanities for The Trials of Serra Blue. She has also received an award from American Independent Writers for best published personal essay for a piece on immigration. In Saving Phoebe Murrow, Feely continues her commitment to activism on behalf of children. A graduate of UC Berkeley and Johns Hopkins University, Feely is the co-founder of Safe Kids Worldwide, an organization dedicated to saving children from unintentional injuries, the leading killer of children in the United States. She lives in Washington, DC, with her husband and cats. (www.hertafeely.com)
or
Not Currently Available for Direct Purchase