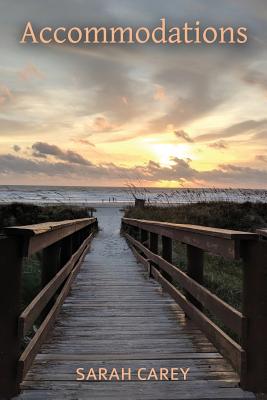 Accommodations
Paperback

* Individual store prices may vary.
Description
"The consciousness that reigns in these poems is hurricane-proof, bulletproof, heartache-proof. And, lucky for us, this is the consciousness of our tour guide throughout this often heart-breaking volume. Again and again, with a
grace and acceptance that reminds us of the strength of human beings, these poems examine the often-blurred line between what will happen in our lives--and what we can make happen. Carey's poetic breath becomes the reader's
life-breath--a parity that only the best of poems can offer."
--M.B. McLatchey, author of The Lame God
"Sarah Carey makes many gracious accommodations to family, to the inevitable losses in an ordinary life, and to the idea of home in all its human dimensions in this intelligent, sensitive, and generous collection. She
meditates on 'the long valediction' of a fully lived life and comes to artful terms with the repercussions of love and mortality in poems that ring true and resonate. Breathe the slow wind, she writes, another storm is always
coming. We know it in our bones, and we see it again and again in these lovely measures."
--Sidney Wade, author of Bird Book and Straits & Narrows
"This collection starts off with an ache that pulls a reader in uncontrollably
with sorrow and beauty. It is a tremendous manuscript that begs to be read
over and over. Organic in the purest sense. Anyone encountering these
poems will be stunned."
--Amy MacLennan, Chapbook Award Judge, author of The Body, A Tree
Concrete Wolf, 9780996475495, 60pp.
Publication Date: June 30, 2019