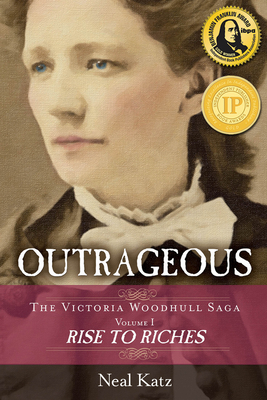 Outrageous
Rise to Riches (The Victoria Woodhull Saga)
Paperback

* Individual store prices may vary.
Other Editions of This Title:
Hardcover (10/23/2015)
Description
Neal Katz' debut novel, winner of 12 literary awards, is a historical fictionalized account of Victoria Woodhull's rise to presidential candidate and wealth, coming from poverty and abuse.

Women empowerment, overcoming adversity, social change, and hope were the cornerstones upon which Victoria Woodhull (1838–1927) and her younger sister Tennessee Celeste Claflin built their incredible lives in Victorian America. OUTRAGEOUS, Rise to Riches sets the psychological verity and traces Victoria from childhood poverty and horrific abuse to becoming one of the wealthiest women in America, founding the first women-owned brokerage firm on Wall Street, and the first women-owned newspaper. Victoria will stop at nothing to achieve her destiny.

Volume One of The Victoria Woodhull Saga tells the poignant, lascivious, and compelling inside story of how the sisters worked closely with Cornelius Vanderbilt, who at age 74 fell in love with the beguiling 24-year old Tennessee. Victoria provided the titan of industry "Inside Her Information" gathered through the soiled sisterhood, the ladies of the evening working at the top seven brothels servicing the rich and famous of New York City.

This relationship resulted in the great lion of industry having his last public roar as together they manipulated the financial markets and created the impending collapse of the U.S. economy in the gold scandal of 1869. To avert the crash, President Ulysses S. Grant provides the richest man in America insider information on the gold market and telegrams Vanderbilt that his railroad company is "Too Big To Fail!" Vanderbilt was proclaimed "The Savior of the American Economy" for intervening in a crisis he helped create.

View Victorian America through the eyes and thoughts of one of its leading heroines., Victoria Woodhull. Watch as the infighting and elitism of the earliest suffrage women denigrating, castigating, and denouncing other passionate suffrage rights women delayed woman suffrage and equal legal standing for five decades. Learn wonderful anecdotes of the origins of products and phrases used today. Learn the story of Reverend Henry Ward Beecher, the most popular man in America, who transformed Christianity from his father's "fire and brimstone" theology to one of a compassionate and loving Jesus, who will redeem all who turn to salvation with complete confession of their sins. The reverend's personal life did not imitate his lofty and popular theology of his weekly sermons at Plymouth Church. He was a notorious womanizer, often bedding, and sometimes impregnating the wives, sisters, and daughters of his most ardent trackers and deacons of the church.

Written in the first person from Victoria's viewpoint, Neal Katz weaves a compelling page-turning story that cleverly unfolds history while providing a wonderfully entertaining ride.
Top Reads Publishing, LLC, 9780996486002, 344pp.
Publication Date: October 1, 2015
About the Author
Neal Katz has had a fascination for history since he studied the Civil War in high school. Believing that the greatest untold story is the horrific treatment of women throughout history, he promotes a full reckoning of their mistreatment and hopes this exposure of the truth will result in the general empowerment of women.
Having overcome his own childhood abuse, Neal Katz writes and lectures to inspire all people, especially women, empowering them to know that they have the ability to manifest any vision for their life they desire. Neal's debut novel, Outrageous, Rise to Riches, received 12 literary awards.
While feminism is often a topic involved in discussions about his writing, Neal states, "Before gender, race, religion, pigmentation, nationality or anything else, we are human beings and we should all treat one another the way we want to be treated. Women, in particular, have been mistreated long enough. Victoria Woodhull and Tennessee Claflin are iconic figures for tenaciously moving forward, as they proclaimed, 'Upward & Onward.'"
or
Not Currently Available for Direct Purchase