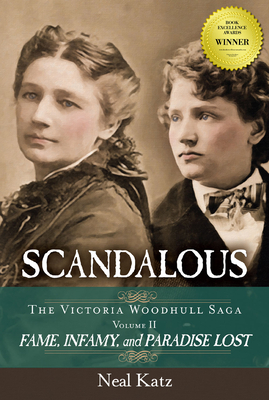 Scandalous, The Victoria Woodhull Saga (Volume II)
Fame, Infamy, and Paradise Lost
Paperback

* Individual store prices may vary.
Description
Set in and around New York City in the early 19th Century, Victoria Woodhull and sister, Tennessee Celeste Claflin take the city by storm as they challenge morality, fashion, economics, social justice, and equal pay for equal work. Leveraging their wealth as the sisters become famous on the lecture circuit, they fight for women's rights, suffrage and enter into the political arena as Victoria is nominated by the American Equal Rights Party to run for President of the United States and Tennessee runs for Congress.
In this rags to riches saga, the reader experiences Historical Fiction at its best. Filled with facts, articles, and actual speeches by some of the most prominent figures of Victorian America, like Elizabeth Cady Stanton, Susan B. Anthony, Reverend Henry Ward Beecher "the Most Famous Man in America," Cornelius Vanderbilt "the Richest Man in America," J. P. Morgan, Frederick Douglass, Karl Marx, among others, the course of events lead to the "Trial of the Century," and retribution.
Scandalous engages the reader as the strong female leading characters change the course of history in America—at enormous personal and financial expense.
Scandalous is Volume 2 of The Victoria Woodhull Saga. Volume 1, Outrageous: Rise to Riches earned twelve awards and high acclaim.
Top Reads Publishing, LLC, 9780996486095, 400pp.
Publication Date: September 1, 2018
About the Author
Neal Katz has had a fascination for history since he studied the Civil War in high school. Believing that the greatest untold story is the horrific treatment of women throughout history, he promotes a full reckoning of their mistreatment and hopes this exposure of the truth will result in the general empowerment of women.
Having overcome his own childhood abuse, Neal Katz writes and lectures to inspire all people, especially women, empowering them to know that they have the ability to manifest any vision for their life they desire. Neal's debut novel, Outrageous, Rise to Riches, received 12 literary awards.
While feminism is often a topic involved in discussions about his writing, Neal states, "Before gender, race, religion, pigmentation, nationality or anything else, we are human beings and we should all treat one another the way we want to be treated. Women, in particular, have been mistreated long enough. Victoria Woodhull and Tennessee Claflin are iconic figures for tenaciously moving forward, as they proclaimed, 'Upward & Onward.'"
or
Not Currently Available for Direct Purchase