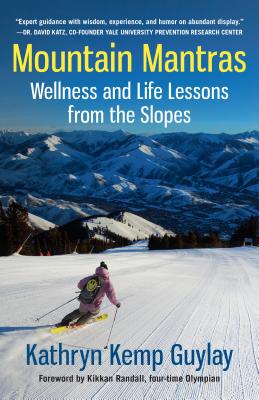 Mountain Mantras: Wellness and Life Lessons from the Slopes (Paperback)
Wellness and Life Lessons from the Slopes
Healthy Solutions of Sun Valley, 9780996532822, 240pp.
Publication Date: September 15, 2015
About the Author
When she s not on the slopes, Kathryn Kemp Guylay is engaged in numerous other activities in her community and beyond. She is wife to husband Jeff and proud mother to Elena and Alexander. Kathryn, Jeff, Elena, and Alexander live in Ketchum, Idaho, with their six pets. As the founder and executive director of Nurture, Kathryn continues to provide free nutrition and wellness education and services to children and families. As a principal of Healthy Solutions of Sun Valley, Kathryn brings wellness solutions to organizations and corporations through speaking engagements and workshops. You can hear Kathryn s voice on KDPI FM Ketchum when she hosts her own bi-weekly radio show on wellness topics. In service to her community, Kathryn acts an advisory board member for The Hunger Coalition, the food pantry for the Wood River Valley in Idaho. She is also a mentor at the Ketchum Innovation Center, which provides guidance and support to small, local businesses. She is a big fan of Michelle Obama s Let s Move! campaign and is proud to participate in several areas of the initiative. Kathryn also participates as a local ambassador for the Jamie Oliver Food Revolution and the Center for Science in the Public Interest (Food Day). Recent awards include a Pillars of Character Award (City of Highland Park, Illinois), the Community Health Hero (Edible Schoolyard of Berkeley, California), and Health Hero (Public Health Department of South Central Idaho). Kathryn earned a BA from Emory University and an MBA from the University of Texas at Austin. She earned her Certification in Nutritional Counseling from Trinity College in Warsaw, Indiana. Kathryn has several certifications in corporate wellness from the Wellness Council of America (WELCOA). Kathryn is the co-creator of the upcoming children s book Give it A Go, Eat a Rainbow in collaboration with professional food photographer, Paulette Phlipot."
Advertisement