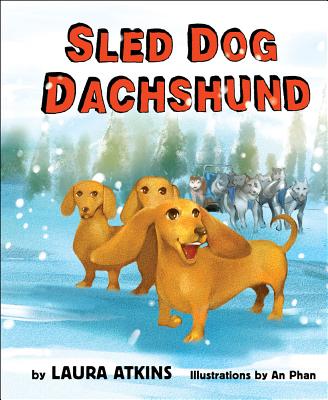 Sled Dog Dachshund (Hardcover)
Minted Prose LLC, 9780996545433, 32pp.
Publication Date: October 4, 2016
* Individual store prices may vary.
Description
Can a small dog with a big bark find a way to help a team of huskies win the sled race? When Jasper the dachshund hears about the world's biggest dog sled race in Alaska, he just knows he can win. And when his family goes to watch the race, he decides to enter. Jasper tries every position, but he's too little and doesn't fit into the sled's harness. That doesn't stop him Jasper sneaks aboard a team sled and finds a way to become a part of the team. His yappy enthusiasm keeps them moving, and Jasper learns how much energy and teamwork it takes to pull the sled. In the final stretch of the race, his team is neck-and-neck with another sled. Can Jasper help lead his team to victory? Will they win by a (long, pointy) nose? Perfect for fans of Weiner Wolf, Akiak: A Tale From the Iditarod, Lumpito and the Painter from Spain, A Dachshund's Wish, and anyone who loves the adventurous spirit of dachshunds.
About the Author
Laura Atkins is an author, teacher, and independent children's book editor with twenty years of editorial experience. She has worked at Children's Book Press, Orchard Books, and Lee & Low Books helping to produce winners of the Coretta Scott King Award, the American Library Association Notable Book selections, and more. She lives in Berkeley, California. An Phan creates advertising illustrations and concept art for a variety of games from massively multiplayer online games to casual mobile titles. He lives in Vietnam.