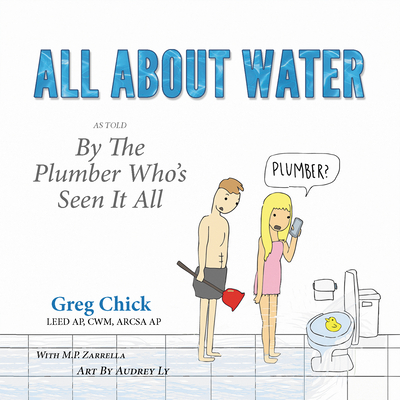 All about Water
As Told by the Plumber Who's Seen It All
Paperback

* Individual store prices may vary.
Description
"A picture is worth a thousand words" is the concept behind this humorous, information-packed, timely little book. Aimed at GenX and Millenial first time homeowners, Author Greg Chick tells the story of water use, re-use, cleanliness, plumbing design, landscape design, and more using cousins Mic and Mac Ro (who have micro and macro views on water). Greg is a water expert and passionate water conservation advocate on a mission to educate consumers. This book uses illustrations and 'snarky' humor to introduce a variety of concepts about water, including ideas on how to save money that every homeowner, first time or experienced, should know.
Calling Card Books, 9780996568326, 106pp.
Publication Date: February 1, 2018
About the Author
Greg Chick is formally educated in plumbing, solar, irrigation, landscape, pools, and water heating. He is dedicated to refining and improving his craft through continuing education, usually from trade associations and manufacturers with emerging products, new technologies, and green products. Greg is a Leadership in Energy and environmental design (LEED) Accredited Professional (AP). In his career, he's held numerous certifications in various related technologies. Greg is a third-generation plumbing contractor and a passionate water conservation spokesperson. M.P. Zarrella is an award-winning freelance writer, earning numerous awards for Excellence In Journalism from the San Diego Press Club. She has been a contributing writer or editor for many non-fiction and fiction titles and author of one dystopic fiction title which earned runner-up in Young Adult Fiction from both the Pacific Rim Book Festival and the Australia Book Festival. She is Founder and CEO of Calling Card Books and Z Girls Press. Audrey Ly is a graduate of San Diego State University with a degree in Multimedia. Using traditional ink and digital mediums, her work usually includes semi-realistic depictions. She completed All About Water in her Senior year at San Diego State. Currently, she is pin designer and illustrator, @MaintainingMediocrity, on Instagram.
or
Not Currently Available for Direct Purchase