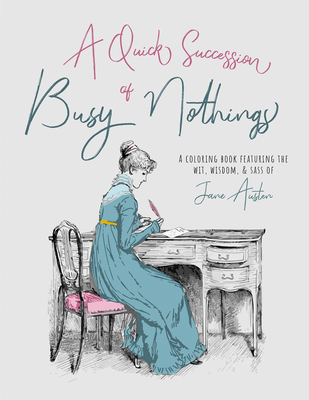 A Quick Succession of Busy Nothings (Paperback)
A Coloring Book Featuring the Wit, Wisdom, & Sass of Jane Austen
Z Girls Press, 9780996568357, 68pp.
Publication Date: August 21, 2018
* Individual store prices may vary.
Description
In our modern times, lovers of Jane Austen's writing have only so many ways to enjoy her work - until now. A Quick succession of Busy Nothings is an adult coloring book filled with original art from Jane's book as well as coloring pages of her favorite sassy sayings for Janeites and others to enjoy while sharing good times with great friends or simply a quiet moment with a good (coloring) book.
An adult coloring book containing scenes, quotes, and themed line art from some of Jane Austen's most popular books: Pride and Prejudice, Emma, Persuasion, Sense and Sensibility, Mansfield Park, Northanger Abbey and more. The illustrations are varied, with clean lines which are easy to fill in with pencil, marker, or a brush. The book is printed on 70lb paper which will hold up to oil, acrylic, and watercolor.
The coloring book includes some original art by Hugh Thomson, the Irish illustrator who provided the art for Austen's books. Creator Kate Zarrella infuses 1800's original artwork, which is now open source, with some of Austen's most famous poignantly witty quotes, and scenes of teacups, flowers and other elements that convey the spirit of Austen and her six novels.
Adult coloring books can help with a number of emotional and mental health issues. For many, boredom, lack of structure, and stress are the greatest triggers they have. The time and focus that adult coloring takes helps the individual remove the focus from the negative issues and habits and focus them in a safe and productive way. These activities can help tremendously with individuals with PTSD, anxiety, and stress issues, as they calm down our amygdala which produces the fight or flight response. Coloring also brings us back to a simpler time. An activity that can invoke the easier and happier times of childhood. A time when we did not have as many responsibilities, and could just do something because we wanted too, for the pure joy of it. (Synopsis taken from Huffington Post blog by Dr. Nikki Martinez, Psy.D., LCPC)
Jane Austen (16 December 1775 - 18 July 1817) was an English novelist known primarily for her six major novels, which interpret, critique and comment upon the British landlords at the end of the 18th century. Austen's plots often explore the dependence of women on marriage in the pursuit of favorable social standing and economic security. Her works critique the second half of the 18th century and are part of the transition to 19th-century literary realism. Her use of biting irony, along with her realism and social commentary, have earned her acclaim among critics and scholars. (Synopsis taken from Wikipedia)