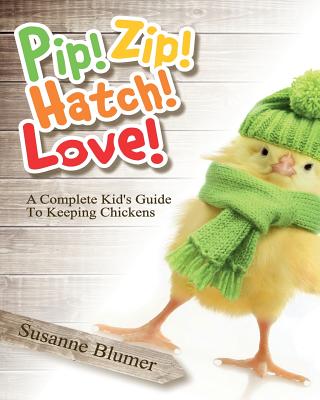 Pip! Zip! Hatch! Love! (Paperback)
A Complete Kid's Guide To Keeping Chickens
Storybrook Press, 9780996616409, 70pp.
Publication Date: July 20, 2015
* Individual store prices may vary.
Description
Have you ever thought about keeping chickens but didn't know how to begin? Pip Zip Hatch Love is the only book you will need Learn how to choose the right breed for your family, get advice on where to get your first chicks, find detailed information on how to hatch eggs successfully, gain specifics on caring for your new chicks once you get them, discover what type of housing you will need for your flock and how to protect them, and much, much more Beginning chicken owners of all ages will enjoy this beautiful and informative book. Full of wonderful pictures, fun facts and tons of helpful tips, this essential guide will walk you through every step of starting your own flock.
About the Author
Susanne Blumer lives on Huckleberry Farm in Upstate South Carolina with her husband Cole and two children, Colin & Annaliese. After moving to the farm, Susanne began breeding rare and heritage breed chickens. She sold hatching eggs to customers all over the country so they could get start their own flocks. Customers also drove from as far away as Miami and Ohio to purchase chicks and adult chickens. In addition to chickens, the farm is home to cows, donkeys, guineas, ducks, cats, Barbados sheep, miniature Babydoll sheep and three Great Pyrenees. Susanne also has a series of Huckleberry Farm children's books and is the author of the upcoming Piper Periwinkle(TM) books. You can contact her at www.susanneblumer.com.